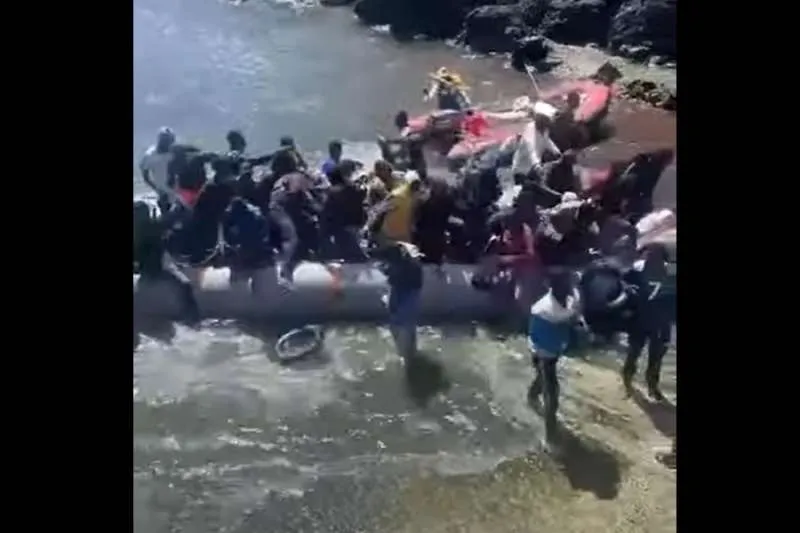 VIDEO: Tourists video a boat with 47 people onboard arriving on beach
An inflatable boat with 47 people of sub-Saharan origin who have survived the deadly Canarian Route from west Africa, including nine women, arrived yesterday (Sunday) by their own means to a beach in the north of Lanzarote. In total, 153 (121 men, 28 women, 4 minors) people landed on the Canary coast after the rescue of two other boats the night before.
This Zodiac made its way to the beach in the town of Punta Mujeres, within the municipality of Haría, and the occupants were assisted by personnel from the Emergency Services. Medical personnel and the Guardia Civil met them and happily, none required hospital treatment.
This is the third boat to arrive at the Canary coasts this weekend after Maritime Rescue intercepted a boat 80 kilometres from Lanzarote on Saturday night, which reached the port of Arrecife at around 1am yesterday.
The third one was retrieved at 10.30am yesterday morning, which was transporting 63 people, also of sub-Saharan origin, and was found drifting 37 kilometres from Fuerteventura as it had run out of fuel.
Happily, none of the 153 migrants who arrived on the coast in the three boats yesterday required health care, since all were in apparent good health, said the emergency services.
Other articles that may interest you...