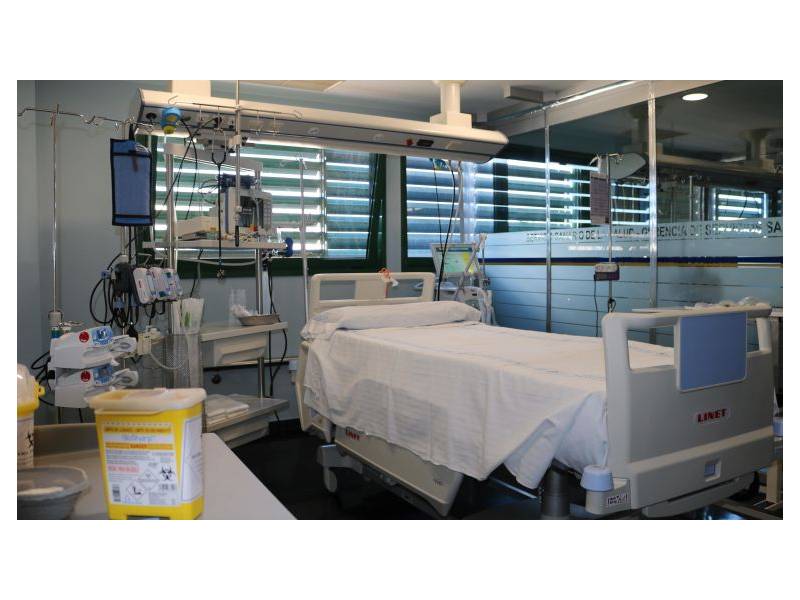 Lanzarote begins equipping a 'field hospital' due to increase of Covid patients
The Molina Orosa Hospital in Arrecife, continues to activate new contingency plans due to the increase in Covid cases, which is raising fears on the island of a jump in hospital admissions. Even though they had been prepared to have 110 extra beds available if necessary, the adaptation of a "field hospital" is also planned in the old supply units, attached to the central building.
However, the Ministry of Health specify that this would only be used "in the worst case scenario." Since last week the Surgery floor has already been allocated to patients with Covid, incorporating 47 extra beds, which up until yesterday there were 33 people admitted to the ward and another nine in the ICU.
In addition, the Lanzarote Health Service is also considering "the opening of the medical-surgical ward with 32 available beds and, ultimately, the Internal Medicine plant could be opened for Covid-19 patients, which would mean an increase of 41 more beds".
On the other hand, the Ministry of Health have pointed out that "in order to continue working with the rest of the patients, there is a collaboration agreement between the Canarian Health Service and the Hospital with the Hospiten private clinic, which would allow the admission of up to 30 further patients".
Other articles that may interest you...
New ICU beds are almost full:
Regarding the care of critical patients, several areas of the hospital have been reconfigured and converted into Intensive Care Units, so that in addition to the 10 beds that the traditional ICU has, there are 7 beds installed in the Major Ambulatory Surgery unit (CMA), as well as another 4 beds in the Unit of Post-surgical resuscitation (REA). Similarly, 10 more have been prepared in the operating room areas and 12 in the Post-anaesthesia Recovery Unit (URPA), for a total of 43 beds.
"If necessary, they could reach 56, because if the situation in ICU worsens, the reconversion of the Short Stay Emergency unit is planned, which would provide 13 more beds," said the Ministry, which underlines that "all these measures and the adaptation of the Hospital currently represent an enormous coordinated effort in order to respond to this third wave of the pandemic in the hospital".