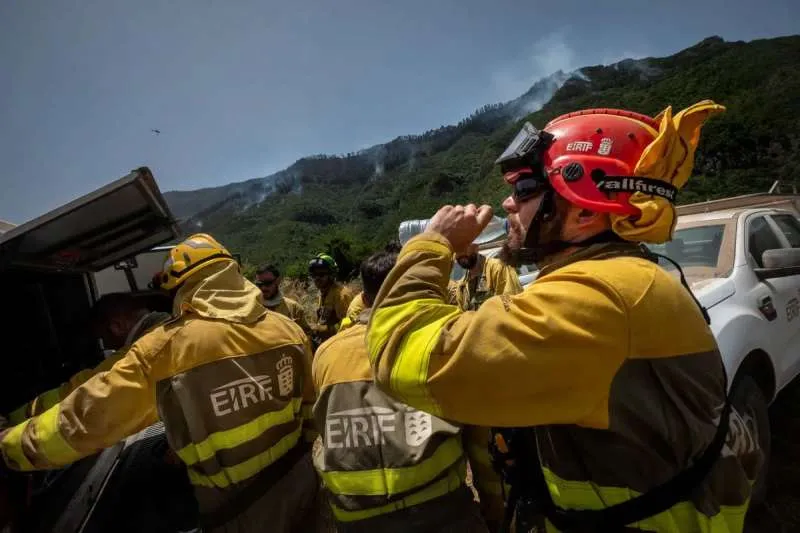 FOREST FIRE UPDATE: The fire is considered to be under control but not extinguished
The fire in the North of Tenerife is considered to be 'controlled' this Friday morning, as reported by the president of the Tenerife Cabildo, Pedro Martín, at a press conference this morning. Martín, who appeared with the Minister of the Natural Environment, Isabel García, applauded the work of fire crews and all involved in controlling the fire.
García confirmed that the personnel of the Forestry Brigades, the ground crew, aerial crew, and all the technicians who have worked to control the fire have worked "like clockwork".
She also stated that work will continue in the area as the fire "is controlled but not extinguished" and "we must continue to monitor the situation closely and continue watering the area to prevent it reigniting".
Pedro Martín updated the perimeter size and the hectares affected by the fire, which finally stand at 34 kilometres and 2,753 hectares, respectively, making it the tenth biggest in the Canary Islands since records started in 1975.
He also said that "there are indications that could suggest that the fire was caused intentionally", although an official investigation began three days ago, and "we are waiting for this to be confirmed."
"What makes this suspicious," he said, "is that two weeks after the first fire a second was registered in the same area". For this reason, he asks the population of Tenerife to call 112 and alert the emergency services if they see something suspicious in the future, which includes bonfires and other types of actions that could cause a forest fire.
Finally, Martín pointed out that there are few reasons to think that the fire could have been an accident as there were no storms in the area when it started, nor are there any cables that could have caused a spark.
Other articles that may interest you...