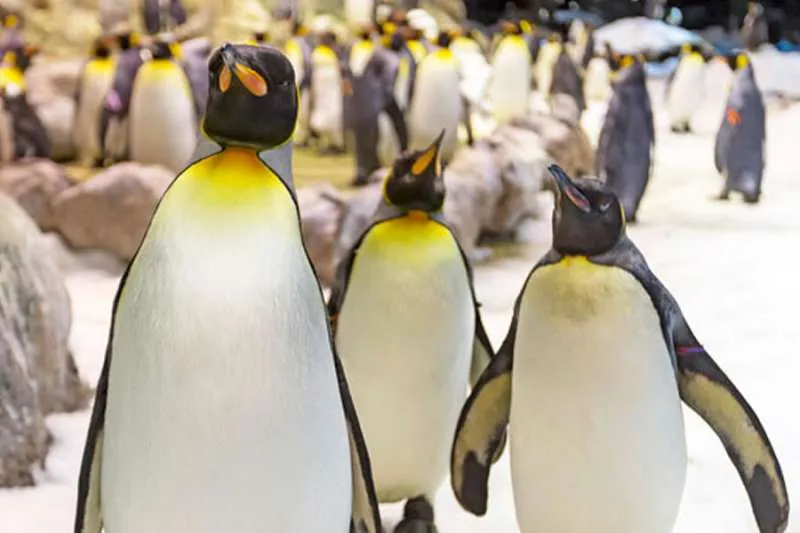 Loro Parque celebrates World Penguin Day in the eternal winter of Planet Penguin
Today, April 25th, is World Penguin Day, and it's also a day on which environmental organizations worldwide are expressing grave concern about the birds' future within their natural habitats, almost all of which are under considerable pressure if not a direct threat, especially in Antarctica due to disappearing ice caps.
Many international scientific projects are underway to study the various species and their problems, including by Spanish specialists who have noted, for example, a decline of 40% in the population of Chinstrap penguins in a colony on Deception Island close to the Antarctic Peninsula.
The reduction they've recorded has reached 60% in other parts of Antarctica, while another species, the Adélie penguin, has suffered a decline that's even more severe and pronounced, having disappeared altogether in some areas in recent years.
It's why, despite considerable controversy over its policies concerning cetaceans, Loro Parque is generally a force for great good for penguins. Their Foundation has done enormous amounts of good work for environmental causes, especially when it comes to birds, some species of which it has saved from extinction.
One particular species has found an amazing home in the park: the Penguinarium hosts the largest colony of penguins outside Antarctica in an environment that offers real snow and a huge iceberg in facilities that are considered the best human replica of the natural living conditions of these curious and amusing animals in the world.
According to the International Union for the Conservation of Nature (IUCN), of the existing 18 species of penguins worldwide, 10 are under pressure through one or another type of environmental threat. Loro Parque has five of these species, and says that these birds act as ambassadors who help raise awareness and thereby contribute to the wild counterparts' conservation.
The following video shows how a real winter exists at Planet Penguin even in the midst of a Tenerife summer.
Loro Parque says that the penguins "find themselves in a significantly darker environment with lower temperatures as dim light perfectly recreates the Antarctic winter season", and as we can see, these adorable little creatures collaborate readily with the veterinarians of Loro Parque who control their weight and conduct the corresponding analysis.
If you'd like to visit Loro Parque, get tickets now from VayCay, click either the Play Store or App Store logo to download the app: