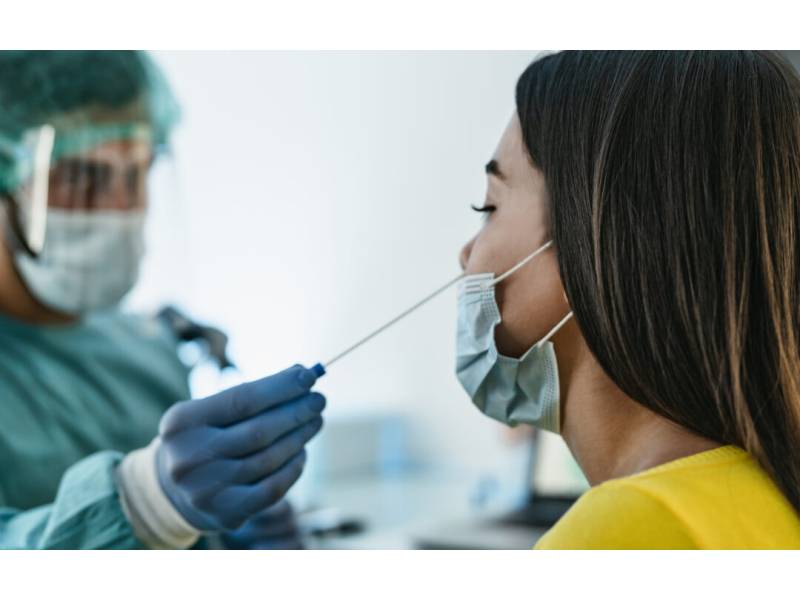 Covid update: Almost 4,000 new cases today, 54% are Omicron variant
As predicted, the latest data from the Ministry of Health shows a sharp increase in the number of new daily cases today, with 3,958 in the last 24 hours. An increase was expected after the Christmas weekend, but not necessarily one this big. Tenerife sets a new record with 2,314 new cases followed by Gran Canaria with 1,193 the first time they have had over 1,000 new cases on the island.
Lanzarote adds 204 new cases, Fuerteventura has 112, La Palma 79, La Gomera 42, and El Hierro 14. ICU admissions have increased by 5 even with three more deaths from Covid in Tenerife.
There are now 32,844 people infected with Covid-19 in the Canary Islands, and the SCS has confirmed that 54% of the new cases sequenced are now the Omicron variant which has already overtaken the Delta strain as the most dominant in the Canary Islands.
Spain will soon have the worst epidemiological data in Europe:
Spain is set to become the European country with the highest rate of coronavirus infections in this sixth wave of the pandemic, before the end of the year. With an accumulated incidence rate of 1,206 over the last 14 days, it is already the fourth-highest behind the United Kingdom, Switzerland, and the Czech Republic, which for weeks have been the three territories that other countries have watched in horror at the exponential spread of the virus
Now, the difference is that while these three countries, and others such as the Netherlands and Belgium, have already started to bend the curve after having taken drastic measures to curb infections, Spain is on an almost vertical rise, and has doubled the number of active cases in a week and has pulverized all the records of almost two years of the pandemic.
In fact, several Spanish regions are already at the top of the rankings for the highest 14-day incidence rates in Europe: Navarra (2,339), La Rioja (2,145), the Basque Country (1,976), Madrid (1,769), and Castilla y León (1,733). These all exceed the 1,663 rate in the UK, which is the country currently ranked the highest in Europe.
Antigen tests:
In the week leading up to Christmas, pharmacies in the Canary Islands sold 115,021 self-diagnostic antigen tests. Those sales represent 21.5% of sales registered in the islands since July 20th, when the sale of antigen tests was allowed in pharmacies without a prescription.
Data for Tuesday 28th December 2021:
(updates are against yesterday's figures)
New cases: 3,958
Tenerife: 2,314
Gran Canaria: 1,193
Lanzarote: 204
Fuerteventura: 112
La Palma: 79
La Gomera: 42
El Hierro: 14
Current Incidence rate (IA7): 841.52
(Cases last 7 days: 18,313)
Tenerife: 1,137.08
La Gomera: 1,051.76
El Hierro: 753.57
Lanzarote: 660.41
Gran Canaria: 645.10
Fuerteventura: 462.70
La Palma: 402.60
Current Incidence rate (IA14): 1,332.61
(Cases last 14 days: 28,968)
Tenerife: 1,908.13
La Gomera: 1,254.73
El Hierro: 959.90
Lanzarote: 937.03
Gran Canaria: 929.14
Fuerteventura: 836.03
La Palma: 581.13
General:
Covid patients in hospital: 327 (-4)
Covid patients in ICU: 67 (+5)
Home isolation: 32,450
R number: 1.46 (needs to be below 1)
PCR test positivity rate: 24.89% (should be below 4.5%)

Vaccination:
Total administered: 3,715,647
Fully vaccinated: 1,686,869 people (80.42%)
One dose: 1,759,837 people (83.89%)
Children aged 5-11: 31,846 (23.26%)
Booster doses: 412,854

Deaths last 24 hours: 3
Tenerife: 3 (626)
Total deaths: 1,118

Medical Discharges in last 24 hours: 725
Tenerife: 443
Gran Canaria: 184
Lanzarote: 65
La Palma: 22
El Hierro: 5
La Gomera: 4
Fuerteventura: 2

Total Active cases per island:
Total: 32,844
Tenerife: 19,142 (+1,868)
Gran Canaria: 9,624 (+1,009)
Fuerteventura: 1,859 (+110)
Lanzarote: 1,460 (+139)
La Palma: 407 (+57)
La Gomera: 260 (+38)
El Hierro: 92 (+9)
Municipalities with most active cases in each island:
8,430 in Santa Cruz (Tenerife)
7,683 in Las Palmas (Gran Canaria)
4,144 in La Laguna (Tenerife)
1,115 in Arrecife (Lanzarote)
979 in Puerto del Rosario (Fuerteventura)
698 in Arona (Tenerife)
581 in Adeje (Tenerife)
572 in La Oliva (Fuerteventura)
562 in Granadilla de Abona (Tenerife)
547 in Puerto de La Cruz (Tenerife)
510 in Telde (Gran Canaria)
319 in San Bartolomé de Tirajana (Gran Canaria)
306 in Santa Lucia de Tirajana (Gran Canaria)
243 in Guia de Isora (Tenerife)
90 in Mogán (Gran Canaria)
81 in San Miguel de Abona (Tenerife)
76 in Santiago del Teide (Tenerife)
(Please note this is not all municipalities, it represents the most infected and tourist areas)