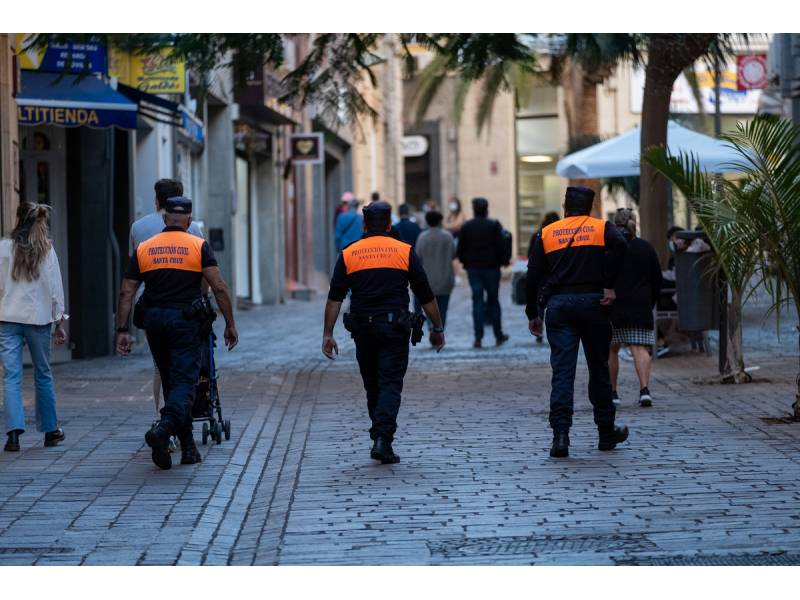 Covid update: Tenerife and Gran Canaria are heading for Level 2 restrictions
Tenerife and Gran Canaria are heading for Level 2 this week as the upward trend of epidemiological data in the Canary Islands continues, with 276 new cases and two Covid related deaths in the last 24 hours, both women in Gran Canaria, aged 87 and 94, with previous pathologies and who were already in hospital.
New cases in the two islands are increasing daily with 122 in Tenerife today and 121 in Gran Canaria, and their 14-day incidence rates are now at 142 and 130 respectively and still rising.
There are now 2,511 active Covid cases in the Canary Islands with 175 in wards, and 28 in ICU which has increased by 25% in the last 24 hours. There are 2,319 people in home isolation after 261 people were medically discharged today.
Lanzarote and Fuerteventura are already in Level 2 which doesn't have many differences at the moment to Level 1 as capacities are the same at 100% outside, 80% inside, groups and tables of 8 (not 12), and closing time for bars of 2am, but that could change with the reformation of the levels and traffic light system nationally in Spain over the next couple of weeks if an agreement is made by the Public Health Committee.
Data for Tuesday 23rd November 2021:
(updates are against yesterday's figures)
New cases: 276
Tenerife: 122
Gran Canaria: 121
Fuerteventura: 18
Lanzarote: 13
La Palma: 1
La Gomera: 1
El Hierro: 0
Current Incidence rate (IA7): 77.94
(Cases last 7 days: 1,696)
Fuerteventura: 111.08
Lanzarote: 76.37
Tenerife: 79.26
Gran Canaria: 79.02
La Gomera: 41.52
La Palma: 27.56
El Hierro: 0.00
Current Incidence rate (IA14): 136.31
(Cases last 14 days: 2,751)
Fuerteventura: 205.46
Lanzarote: 146.97
Tenerife: 142.04
Gran Canaria: 130.21
La Gomera: 101.49
La Palma: 41.94
El Hierro: 8.97
General:
Covid patients in hospital: 175 (-6)
Covid patients in ICU: 28 (+6)
Home isolation: 2,319
R number: 1.13 (needs to be below 1)
PCR test positivity rate: 5.23% (should be below 4.5%)
Deaths last 24 hours: 2
Gran Canaria: 2 (352)
Total deaths: 1,033
Vaccination: (No update today)
Total administered: 3,240,584
Fully vaccinated: 1,679,202 people (85.64%)
One dose: 1,691,355 people (86.26%)
Target: 1,960,774 (population over 12 years old)
Medical Discharges in last 24 hours: 261
Tenerife: 129
Gran Canaria: 80
Lanzarote: 28
Fuerteventura: 22
La Palma: 1
El Hierro: 1
La Gomera: 0
Total Active cases per island:
Total: 2,511
Tenerife: 1,132 (-7)
Gran Canaria: 995 (+39)
Fuerteventura: 202 (-4)
Lanzarote: 138 (-15)
La Palma: 31 (-1)
La Gomera: 12 (+1)
El Hierro: 1 (-1)
Municipalities with most active cases in each island:
836 in Las Palmas (Gran Canaria)
657 in Santa Cruz (Tenerife)
152 in La Laguna (Tenerife)
116 in Arrecife (Lanzarote)
112 in Arona (Tenerife)
87 in Puerto del Rosario (Fuerteventura)
77 in La Oliva (Fuerteventura)
77 in Adeje (Tenerife)
73 in San Bartolomé de Tirajana (Gran Canaria)
49 in Granadilla de Abona (Tenerife)
22 in Santa Lucia de Tirajana (Gran Canaria)
21 in Telde (Gran Canaria)
16 in Puerto de La Cruz (Tenerife)
12 in Mogán (Gran Canaria)
11 in San Miguel de Abona (Tenerife)
6 in Guia de Isora (Tenerife)
2 in Santiago del Teide (Tenerife)
(Please note this is not all municipalities, it represents the most infected and tourist areas)