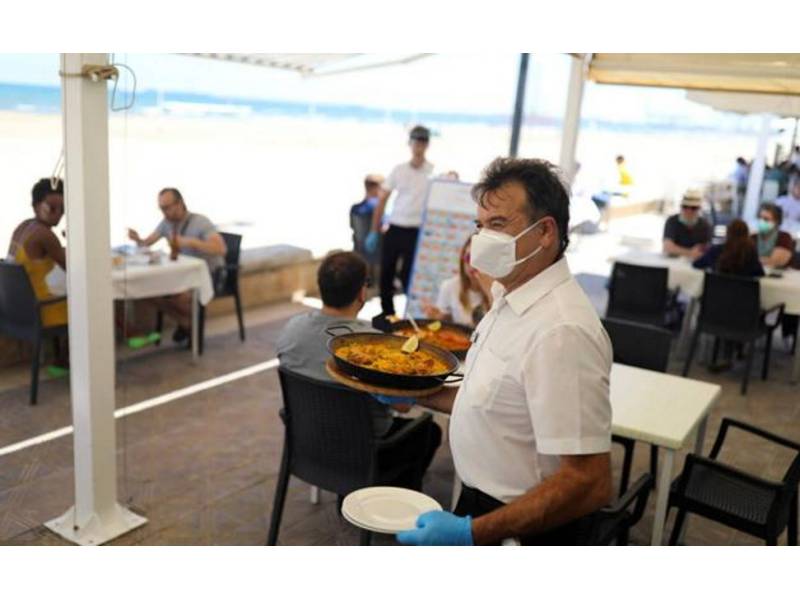 Covid update: Has the peak of this wave been reached with another 6,000 cases?
The Canary Island have added 6,731 new daily cases in the last 24 hours, the third day running that there have been 6,700 cases leading to the question whether or not this is the peak of the curve before a decrease is seen as in other countries.
The Ministry of Health have also reported 10 more Covid related deaths between the ages of 65 and 90, with seven in Tenerife, one in Gran Canaria, one in Lanzarote and one in La Palma, all of which had previous pathologies, bringing the total number of fatalities to 1,234 since the pandemic began.
After having 1,934 people medically discharged today, there are 80,503 active cases in the islands, which is 4,787 more than yesterday. Of these, 72 are admitted to ICU and 533 to hospital wards.
Regarding the cases by Islands, Tenerife has 3,095 new cases; Gran Canaria 2,144; La Palma 598; Lanzarote 536; Fuerteventura 269; El Hierro 54, and La Gomera 35.
Data for Thursday 13th January 2022:
(updates are against yesterday's figures)
New cases: 6,731
Tenerife: 3,095
Gran Canaria: 2,144
La Palma: 598
Lanzarote: 536
Fuerteventura: 269
El Hierro: 54
La Gomera: 35
Current Incidence rate (IA7): 1,488.50
(Cases last 7 days: 32,390)
La Palma: 2,126.82
Lanzarote: 1,658.41
Tenerife: 1,583.56
El Hierro: 1,560.96
Fuerteventura: 1,396.45
Gran Canaria: 1,315.81
La Gomera: 1,024.08
Current Incidence rate (IA14): 2,707.83
(Cases last 14 days: 58,321)
La Palma: 3,769.56
Lanzarote: 3,129.41
Tenerife: 2,891.87
El Hierro: 2,700.28
Gran Canaria: 2,407.42
Fuerteventura: 2,302.64
La Gomera: 1,803.67
General:
Covid patients in hospital: 533 (+20)
Covid patients in ICU: 72 (+2)
Home isolation: 79,898
R number: 0.95 (needs to be below 1)
PCR test positivity rate: 44.32% (should be below 4.5%)

Vaccination: (No update today)
Total administered: 3,921,220
Fully vaccinated: 1,697,050 people (80.90%)
One dose: 1,797,749 people (85.70%)
Children aged 5-11: 54,167 (39.56%)
Booster doses: 564,952

Deaths last 24 hours: 10
Tenerife: 7 (699)
Gran Canaria: 1 (423)
Lanzarote: 1 (59)
La Palma: 1 (23)
Total deaths: 1,234

Medical Discharges in last 24 hours: 1,934
Tenerife: 1,000
Gran Canaria: 523
Lanzarote: 161
La Palma: 138
La Gomera: 51
Fuerteventura: 44
El Hierro: 17

Total Active cases per island:
Total: 80,503
Tenerife: 40,369 (+2,088)
Gran Canaria: 27,747 (+1,620)
Lanzarote: 5,545 (+374)
Fuerteventura: 4,323 (+225)
La Palma: 2,097 (+459)
La Gomera: 239 (-16)
El Hierro: 183 (+37)


Municipalities with most active cases in each island:
20,008 in Las Palmas (Gran Canaria)
17,000 in Santa Cruz (Tenerife)
7,752 in La Laguna (Tenerife)
3,396 in Arrecife (Lanzarote)
2,362 in Telde (Gran Canaria)
1,969 in Puerto del Rosario (Fuerteventura)
1,761 in Arona (Tenerife)
1,603 in Granadilla de Abona (Tenerife)
1,520 in Adeje (Tenerife)
1,253 in Puerto de La Cruz (Tenerife)
1,039 in San Bartolomé de Tirajana (Gran Canaria)
946 in La Oliva (Fuerteventura)
933 in Santa Lucia de Tirajana (Gran Canaria)
609 in Guia de Isora (Tenerife)
363 in San Miguel de Abona (Tenerife)
333 in Mogán (Gran Canaria)
157 in Santiago del Teide (Tenerife)
(Please note this is not all municipalities, it represents the most infected and tourist areas)