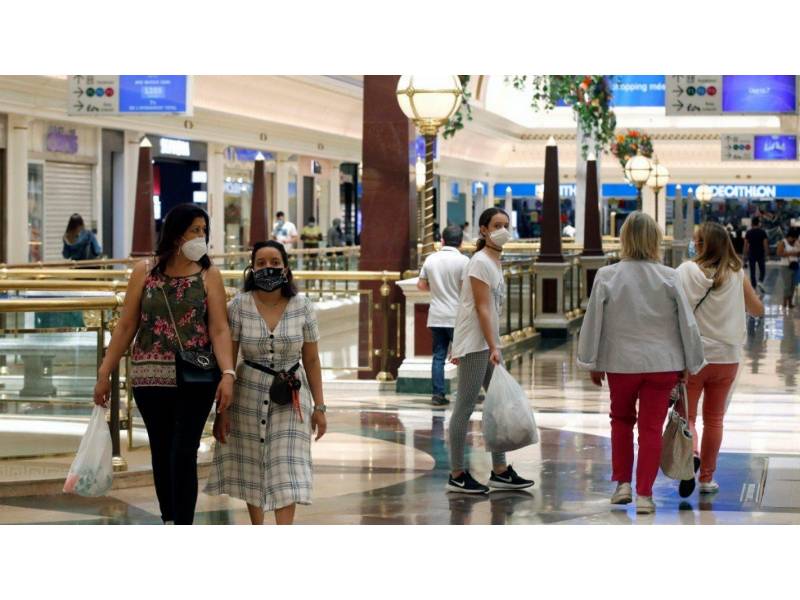 Covid update: third day in a row with more than 500 new daily cases
After two days of more than 500 new cases per day (512 on Thursday and 507 on Friday), the Ministry of Health have reported 555 new cases of coronavirus in the Canary Islands today, raising the active cases to 6,420 with 244 Covid patients in hospital wards, 46 in ICU, 6,130 people in home isolation, and one death in Gran Canaria, meaning that 1,063 people in the archipelago have now died from Covid.
Of the new cases, 223 are in Gran Canaria today, 201 are in Tenerife, 72 are in Fuerteventura, 46 are in Lanzarote, and 13 are in La Palma. Incidence rates have continued to increase, but the worrying one continues to be in Fuerteventura. The island is already in alert level 3, but the rates are now heading towards Level 4 territory and continue to rise.
They have also confirmed that 34,000 doses of the weaker Pfizer vaccine are arriving in the islands on Monday to start vaccination of children aged 5-11 years old from Wednesday. It is only 10ug as opposed to the adult dose of 30ug and will be administered ay health and mass vaccination centres until permission is granted to inoculate in schools. The highest incidence and spread of the virus is via children.
As confirmed yesterday, Tenerife and Gran Canaria move up to alert Level 2 from midnight tomorrow night, 00.00H on Monday, so here is confirmation of levels for all the islands:
Data for Saturday 11th December 2021:
(updates are against yesterday's figures)
New cases: 555
Gran Canaria: 223
Tenerife: 201
Fuerteventura: 72
Lanzarote: 46
La Palma: 13
La Gomera: 0
El Hierro: 0
Current Incidence rate (IA7): 123.62
(Cases last 7 days: 2,690)
Fuerteventura: 283.97
Gran Canaria: 129.98
Lanzarote: 111.03
Tenerife: 106.29
La Palma: 73.09
La Gomera: 55.36
El Hierro: 44.86
Current Incidence rate (IA14): 245.09
(Cases last 14 days: 5,332)
Fuerteventura: 503.62
Gran Canaria: 259.61
Tenerife: 219.79
Lanzarote: 198.96
La Palma: 154.57
La Gomera: 110.71
El Hierro: 44.86
General:
Covid patients in hospital: 244 (+2)
Covid patients in ICU: 46 (-)
Home isolation: 6,130
R number: 1.12 (needs to be below 1)
PCR test positivity rate: 6.99% (should be below 4.5%)


Deaths last 24 hours: 1
Gran Canaria: 1 (369)
Total deaths: 1,063


Vaccination: (No update today)
Total administered: 3,4551,331
Fully vaccinated: 1,697,746 people (86.59%)
One dose: 1,705,081 people (86.96%)
Booster doses: 230,691
Target: 1,960,774 (population over 12 years old)


Medical Discharges in last 24 hours: 198
Tenerife: 89
Gran Canaria: 54
Lanzarote: 37
La Palma: 11
La Gomera: 7
Fuerteventura: 0
El Hierro: 0


Total Active cases per island:
Total: 6,420
Gran Canaria: 2,753 (+168)
Tenerife: 2,595 (+112)
Fuerteventura: 721 (+72)
Lanzarote: 222 (+9)
La Palma: 102 (+2)
La Gomera: 21 (-7)
El Hierro: 6 (-)
Municipalities with most active cases in each island:
2,309 in Las Palmas (Gran Canaria)
1,359 in Santa Cruz (Tenerife)
477 in La Laguna (Tenerife)
400 in Puerto del Rosario (Fuerteventura)
247 in La Oliva (Fuerteventura)
203 in Arona (Tenerife)
189 in Arrecife (Lanzarote)
148 in Adeje (Tenerife)
113 in San Bartolomé de Tirajana (Gran Canaria)
110 in Granadilla de Abona (Tenerife)
102 in Santa Lucia de Tirajana (Gran Canaria)
93 in Telde (Gran Canaria)
58 in Puerto de La Cruz (Tenerife)
32 in Guia de Isora (Tenerife)
18 in San Miguel de Abona (Tenerife)
10 in Mogán (Gran Canaria)
8 in Santiago del Teide (Tenerife)
(Please note this is not all municipalities, it represents the most infected and tourist areas)