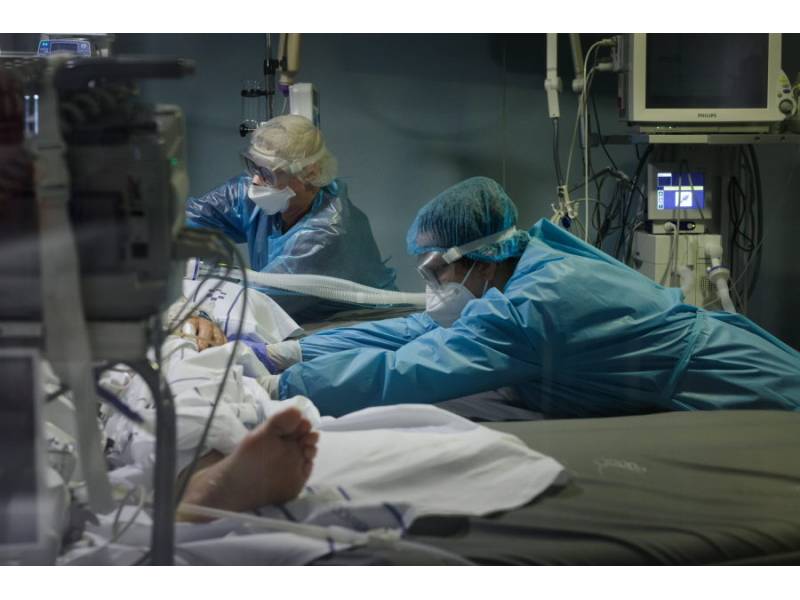 Covid update: 512 new cases and 4 deaths in the Canary Islands
The Ministry of Health has confirmed 512 new cases of coronavirus in the Canary Islands today, taking the total number of accumulated cases to 106,835 with 5,759 still active, of which 41 are admitted to ICU and 245 are in hospital wards. In the last 24 hours, four Covid related deaths have been reported in the Canary Islands, one person in Tenerife and three people in Gran Canaria.

Of the new cases today, 210 are in Tenerife, 195 are in Gran Canaria, 48 are in Fuerteventura, 40 in Lanzarote, 14 are in La Palma, 3 are in El Hierro, and 2 are in La Gomera.
The SCS have confirmed the second case of the omicron strain in the Canary Islands, a nurse in Tenerife. Just two days ago they reported the first case of Covid-19 by the omicron variant registered in the Canary Islands, a middle-aged male national police officer in Gran Canaria. There are currently six other Covid patients being followed, suspected of carrying the omicron strain.
The Ministry of Health have also notified of 122 new coronavirus outbreaks with 580 cases this week, with 52 in Gran Canaria, 41 in Tenerife, 14 in Fuerteventura, 8 in Lanzarote, 6 in La Palma, and 1 in La Gomera.
By area in which they have occurred, 41 are family outbreaks, 25 are from social gatherings, 24 are in the workplace, 22 in schools, and 5 in health centres. This week, most of the outbreaks range between three and six cases, except for two that have more than 10 infected people, the biggest is a family outbreak in Fuerteventura with 21 people infected.
Data for Thursday 9th December 2021:
(updates are against yesterday's figures)
New cases: 512
Tenerife: 210
Gran Canaria: 195
Fuerteventura: 48
Lanzarote: 40
La Palma: 14
El Hierro: 3
La Gomera: 2
Current Incidence rate (IA7): 115.63
(Cases last 7 days: 2,516)
Fuerteventura: 258.08
Gran Canaria: 122.38
Lanzarote: 103.97
Tenerife: 99.07
La Palma: 75.49
La Gomera: 50.74
El Hierro: 35.88
Current Incidence rate (IA14): 226.57
(Cases last 14 days: 4,929)
Fuerteventura: 439.31
Gran Canaria: 243.48
Tenerife: 205.36
Lanzarote: 179.06
La Palma: 130.60
La Gomera: 101.49
El Hierro: 35.88
General:
Covid patients in hospital: 245 (+22)
Covid patients in ICU: 41 (+4)
Home isolation: 5,473
R number: 1.15 (needs to be below 1)
PCR test positivity rate: 6.07% (should be below 4.5%)


Deaths last 24 hours: 4
Tenerife: 1 (596)
Gran Canaria: 3 (367)
Total deaths: 1,061


Vaccination:
Total administered: 3,4551,331
Fully vaccinated: 1,697,746 people (86.59%)
One dose: 1,705,081 people (86.96%)


Booster doses: 230,691
Target: 1,960,774 (population over 12 years old)


Medical Discharges in last 24 hours: 188
Gran Canaria: 63
Tenerife: 53
Lanzarote: 47
Fuerteventura: 22
La Palma: 2
La Gomera: 1
El Hierro: 0


Total Active cases per island:
Total: 5,759
Gran Canaria: 2,474 (+129)
Tenerife: 2,351 (+156)
Fuerteventura: 604 (+26)
Lanzarote: 198 (-7)
La Palma: 104 (+12)
La Gomera: 23 (+1)
El Hierro: 5 (+3)
Municipalities with most active cases in each island:
2,065 in Las Palmas (Gran Canaria)
1,230 in Santa Cruz (Tenerife)
422 in La Laguna (Tenerife)
332 in Puerto del Rosario (Fuerteventura)
211 in La Oliva (Fuerteventura)
191 in Arona (Tenerife)
169 in Arrecife (Lanzarote)
138 in Adeje (Tenerife)
115 in San Bartolomé de Tirajana (Gran Canaria)
110 in Granadilla de Abona (Tenerife)
97 in Santa Lucia de Tirajana (Gran Canaria)
74 in Telde (Gran Canaria)
56 in Puerto de La Cruz (Tenerife)
32 in Guia de Isora (Tenerife)
19 in San Miguel de Abona (Tenerife)
14 in Mogán (Gran Canaria)
6 in Santiago del Teide (Tenerife)
(Please note this is not all municipalities, it represents the most infected and tourist areas)