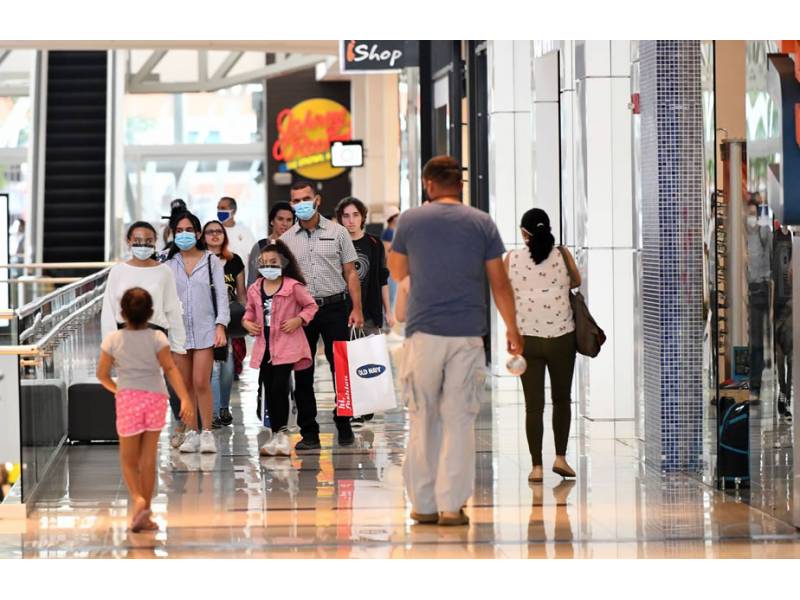 Covid update: The Canaries starts December with 396 new cases and 4 deaths
The latest data from the Ministry of Health has informed that December has started with 396 new cases of coronavirus today, the highest daily total since August 13th, in this sixth wave of the virus. They have also confirmed four Covid related deaths, three in Gran Canaria and one in Tenerife, all aged over 68 with previous pathologies.
Of the new cases today, 185 are in Gran Canaria, 135 are in Tenerife, 30 are in Fuerteventura, 27 are in Lanzarote, 18 are in La Palma, and 1 is in La Gomera. Today's data will be the final day that is included in the weekly review of alert levels tomorrow at the Governing Council meeting.
This is the last meeting before the so-called 'bridge', the 5-day bank holiday next week, and it is fully expected that Gran Canaria and Tenerife will go to Level 2 for this festive period as their 7- day incidence rates are both now over 100, and Gran Canaria's 14-day rate is approaching 200. The good news is though, that the 'extra' restrictions don't really affect too much anyway.
Fuerteventura, on the other hand, continues to have an upwards trend with indicators heading towards Level 3 territory. Currently, 300 is the threshold for the 14-day incidence rate and the island is at 292, but other indicators, such as hospital pressure, are still low on the island.
Data for Wednesday 1st December 2021:
(updates are against yesterday's figures)
New cases: 396
Gran Canaria: 185
Tenerife: 135
Fuerteventura: 30
Lanzarote: 27
La Palma: 18
La Gomera: 1
El Hierro: 0
Current Incidence rate (IA7): 102.90
(Cases last 7 days: 2,239)
Fuerteventura: 161.19
Gran Canaria: 109.99
Tenerife: 100.58
Lanzarote: 75.73
La Palma: 52.72
La Gomera: 41.52
El Hierro: 0.00
Current Incidence rate (IA14): 175.33
(Cases last 14 days: 4,043)
Fuerteventura: 292.32
Gran Canaria: 197.31
Tenerife: 181.46
Lanzarote: 146.97
La Palma: 89.87
La Gomera: 83.03
El Hierro: 0.00
Other articles that may interest you...
General:
Covid patients in hospital: 207 (-7)
Covid patients in ICU: 38 (+4)
Home isolation: 3,477
R number: 1.13 (needs to be below 1)
PCR test positivity rate: 5.05% (should be below 4.5%)


Deaths last 24 hours: 4
Gran Canaria: 3 (360)
Tenerife: 1 (589)
Total deaths: 1,046


Vaccination: (no update today)
Total administered: 3,329,246
Fully vaccinated: 1,697,746 people (86.59%)
One dose: 1,703,854 people (86.90%)
Target: 1,960,774 (population over 12 years old)


Medical Discharges in last 24 hours: 105
Tenerife: 49
Gran Canaria: 48
La Palma: 4
Lanzarote: 3
La Gomera: 1
Fuerteventura: 0
El Hierro: 0


Total Active cases per island:
Total: 3,722
Gran Canaria: 1,596 (+134)
Tenerife: 1,591 (+85)
Fuerteventura: 302 (+30)
Lanzarote: 161 (+24)
La Palma: 57 (+14)
La Gomera: 14 (-)
El Hierro: 1 (-)
Municipalities with most active cases in each island:
1,308 in Las Palmas (Gran Canaria)
836 in Santa Cruz (Tenerife)
291 in La Laguna (Tenerife)
146 in Puerto del Rosario (Fuerteventura)
142 in Arona (Tenerife)
136 in Arrecife (Lanzarote)
115 in La Oliva (Fuerteventura)
86 in Adeje (Tenerife)
85 in San Bartolomé de Tirajana (Gran Canaria)
80 in Granadilla de Abona (Tenerife)
55 in Santa Lucia de Tirajana (Gran Canaria)
53 in Telde (Gran Canaria)
31 in Puerto de La Cruz (Tenerife)
19 in Mogán (Gran Canaria)
17 in Guia de Isora (Tenerife)
10 in San Miguel de Abona (Tenerife)
6 in Santiago del Teide (Tenerife)
(Please note this is not all municipalities, it represents the most infected and tourist areas)