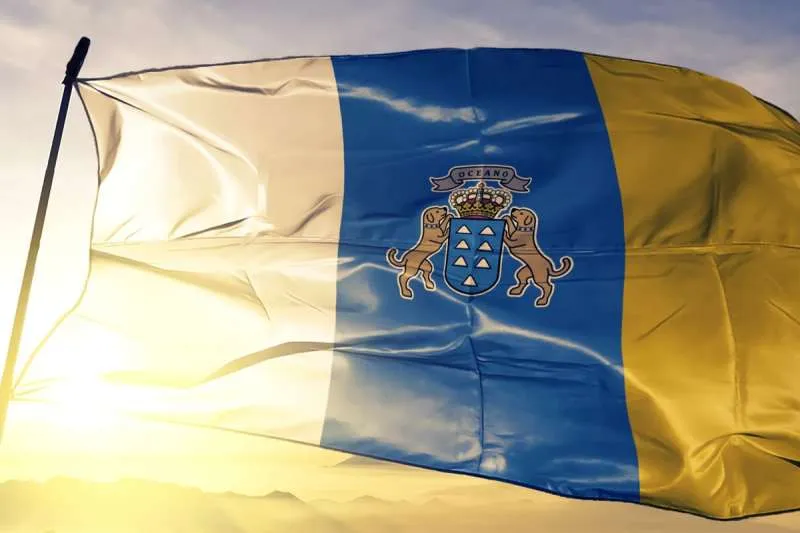 You live or visit the Canary Islands, but do you know the origin of the flag?
As ex-pats, we may live, own property, or visit the Canary Islands, but do we know the origin and meaning of the archipelago's flag? If you didn't know, the flag is made up of three colours: white, blue, and yellow in vertical blocks, and was adopted as the official flag of the islands in 1982 in the "Statutes of Autonomy of the Canary Islands".
There are two versions of the flag that identify the region, one has the coat of arms of the Canary Islands in the centre of the flag, and the other is blank, which corresponds to the description given in the Statute of Autonomy.
Meaning of the colours of the Canary Islands flag:
The colours come from the flags of the two provinces of the islands, blue and white of Santa Cruz de Tenerife and blue and yellow from Las Palmas de Gran Canaria.

The order of the colours corresponds to their geographical layout with white on the left, which is Santa Cruz de Tenerife on the west, yellow on the right that identifies with Las Palmas de Gran Canaria to the east, and blue in the centre, which both provinces share.
Origin of the flag of the Canary Islands:
The Canary Islands flag has had different representations throughout history. At first, it was the royal standard of the Canary Islands, also known as the general flag, registered in 1561 and had the colours white, blue and yellow, with a red cross (like the current one).
The next flag to represent the islands was the flag of the Canarian maritime province, which is currently related to Tenerife. It is a flag with a blue background and it had the cross of Saint Andrew inside it, similar to the Scottish flag.
Later, the Canary Islands had what we know as the Ateneo flag, which was created in 1927 by the Canarian Nationalist Party, although it has never been officially recognised within the territory.
Throughout these years other flags were created, which finally ended with the approval of the flag that we currently know as the Canarian flag in 1982.
However, the official flag of the Canary Islands should not be confused with the Canarian tricolour flag, which is the one with seven green stars (that represent the seven Canary Islands) that was proposed in 1964 by the Movement for Self-determination and Independence of the Canary Archipelago (MPAIAC) as the "national flag of the Canary Islands".
Since its creation, it has been used by independent groups of the Canary Islands, although, at present, it is also used by groups that defend the national character of the Canary Islands.