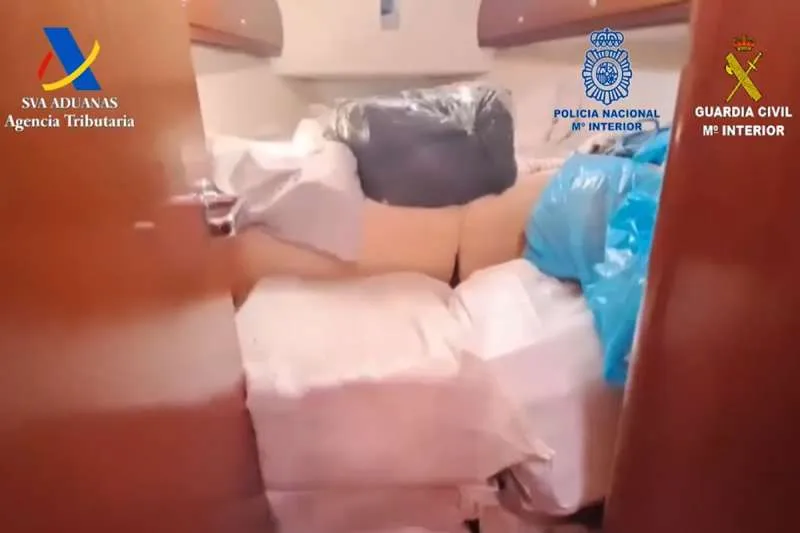 VIDEO: Latest drugs seized by the Canary Islands puts value over a billion euros
The Spanish security forces have intercepted two sailing yachts in the Atlantic approximately 650 kilometres west of Tenerife loaded with more than a ton of cocaine, in a joint operation with the United States anti-drug agency, the DEA. The operation initially focused on one of the two yachts that were under suspicion, but was expanded to include the second.
The Ministry del Interior reported this morning (Wednesday) that the special operations ship of the Fulmar Customs Surveillance Service was returning from intercepting the first of the two yachts when information was received from the DEA, that there was a second suspicious boat near its position.
Agents were surprised when they boarded the two boats because, as you can see in the video, the bundles of drugs were not hidden on the boat they were literally on display below deck.
In total, four people have been arrested, two from each boat that had 600 kilos and 539 kilos of cocaine on board respectively and transferred to the port of Santa Cruz de Tenerife.
The Ministry stated that the operation was difficult to carry out due to the sea conditions, and also because they were already towing one boat when they boarded the second, making manoeuvring more complicated.
This operation is another carried out by the security services dedicated to stopping drug trafficking in the so-called "Atlantic Route of cocaine", known for being used by fishing boats, merchants and, as in this case, sailing yachts, from South America aiming to introduce the drug into Europe.
Since the beginning of 2023, the Spanish security forces have now intercepted cocaine shipments in the Atlantic from the Canary Islands totalling 12.6 tons, with a street value of more than a billion euros, and 51 people have been arrested.
Other articles that may interest you...