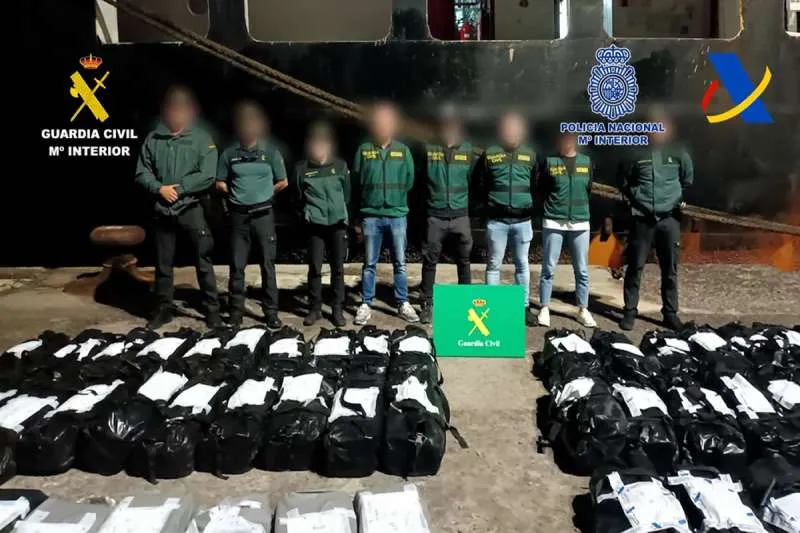 VIDEO: A freighter with 4,500 kilos of cocaine intercepted in the Canary Islands
Agents of the National Police, in a joint operation with the Guardia Civil and the Customs Surveillance Department of the Tax Agency, have intercepted a freighter named 'Blume', 80 miles east of the Canary Islands, with more than 4,500 kilos of cocaine n board worth 180 million euros, arresting 15 crew members of the boat during the operation.
The boarding of the ship, carried out by the Special Operations Team 'Fulmar', was highly complex given the state of the sea and the large dimensions of the freighter.
The operation started as a result of international collaboration, in which the exchange of information between the Atlantic Analysis and Operations Centre (MAOC-N) and the Intelligence Centre Against Terrorism and Organized Crime (CITCO), determined the possible involvement of the vessel in illicit drug trafficking from South America.
Following up on this intelligence, the Ta Agency dispatched the 'Fulmar' team to intercept and board the ship at dawn last Wednesday (18th January).
After they had boarded, agents confirmed that the freighter was transporting 200 tons of coffee as declared on their paperwork, but this is well below the actual cargo capacity of the ship which made the officials in charge of the operation suspicious.
Subsequently, they thoroughly inspected the ship and found an indeterminate number of bales, usually used for cocaine trafficking, so arrested the 15 crew members of the vessel consisting of two Albanians and 13 of Pakistani nationality, who, along with the freighter were taken to the port of Santa Cruz de Tenerife.
Both the detainees, the boat, the drugs, and the relevant reports have been handed over to the Central Investigating Court acting as the Guard of the National Court.
This operation hailed as a success, directed and coordinated by the Anti-drug Prosecutor's Office of the National Court, is added to those carried out to date on the so-called 'Atlantic Route' of cocaine, known for being used by fishing boats, merchants and freighters to transport narcotics into Europe.
Other articles that may interest you...