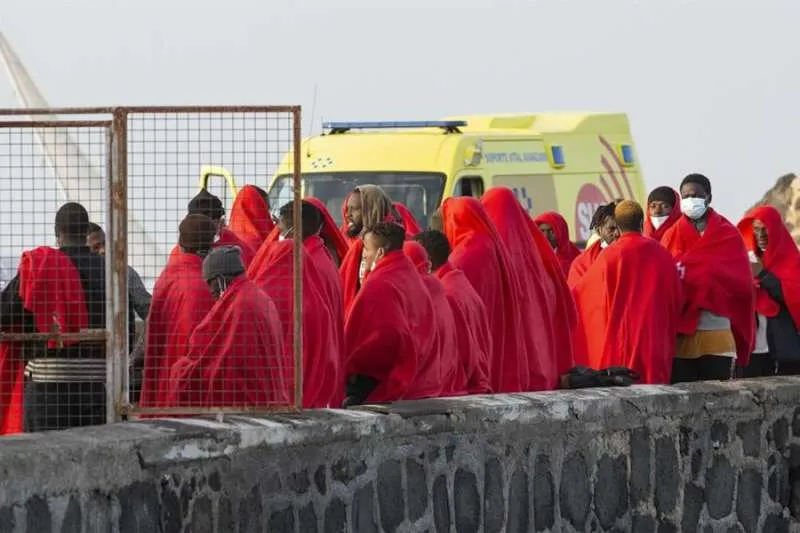 The arrival of migrants to the Canary Islands by sea has fallen by 66% in 2023
The Canary Islands have seen 1,865 migrants arrive on its shores in 42 boats in the first two months of the year, which is 3,631 less than in the same period of 2022, and represents a drop of 66.1%, according to the latest data made public yesterday (Wednesday) by the Ministry of Interior.
3,094 migrants arrived in Spain in the first two months, which is 4,078 less than a year ago (-56.9%), meaning the downward trend in the arrival of irregular migrants continues, although the rate has slowed down, since in January this decrease, compared to the first month of 2022, was 70.7% and in the first half of February was 60%.
Most of the 3,094 migrants who have arrived in Spain so far this year have done so by sea: 2,948 people in 164 boats, 58.1% less than in the first two months of 2022, when 7,037 people arrived in 259 boats.
More than half of those who arrived by sea did so on the coasts of the Canary Islands: 1,865 people in 42 boats, which represents a decrease of 66.1% compared to 2022, when 5,496 migrants reached the coasts of the islands in 115 boats.
Also, in the arrival of migrants to the mainland and the Balearic Islands, there has been a decrease, although somewhat less notable, 28.2%, with 420 fewer than in 2022, since 1,068 people have arrived in 118 boats.
Other articles that may interest you...