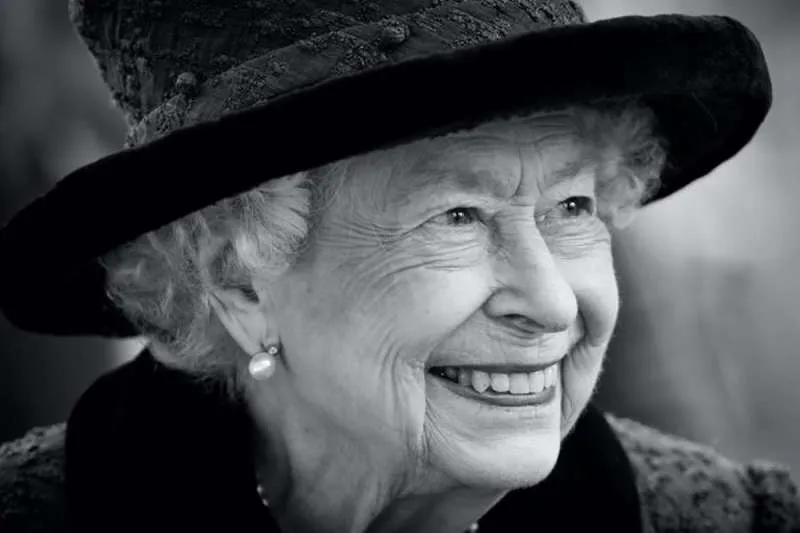 The Queen died peacefully with Charles and Anne at her bedside
Senior royals dashed to be at the Queen's bedside yesterday, but did not reach Balmoral in time before she passed, it is believed. Only her eldest children, Prince Charles and Princess Anne, who were already in Scotland at the time of the Monarch's sudden turn for the worse, were able to make it to the royal estate before her death, sources said last night.
Prince Andrew, Prince Edward, his wife Sophie, and Prince William all flew in from Berkshire via private jet to Aberdeen yesterday as they dashed to Balmoral to see her. But it is understood that they did not reach the estate before she passed.
Prince Harry, who was due to attend a charity event with wife Meghan in London last night, also attempted to reach Balmoral in time. But he arrived at 8pm, nearly an hour-and-a-half after the public were informed of the Queen's death.
It comes as Britain is today mourning the death of its beloved Monarch, Queen Elizabeth II. After a remarkable 70 years on the throne, the country's longest-reigning royal yesterday died 'peacefully', aged 96, at Balmoral in Scotland.
Her death sparked an immediate and huge outpouring of emotion, with thousands of heartbroken mourners gathering outside the gates of Buckingham Palace and other royal buildings yesterday evening. At one point, a rendition of 'God Save The Queen' rang out among the mourners, followed by cheers of 'Long Live The King'.
Others laid flowers outside Windsor Castle - where The Queen had spent much of her time following the death of her beloved husband, Prince Philip, in April last year.
Even the royal household's staff were in tears yesterday, coming to terms with the loss of their much-loved boss, as well as the head of state. One said: 'However much you try to prepare yourself for this moment, it just hits you like a ton of bricks. She is irreplaceable. I just can't believe we won't see that impish smile again. There is a deep sense of shock.'
The Queen's son Charles, the former Prince of Wales, is now King Charles III, while Prince William has inherited his father's title and is now, along with his wife, styled The Duke and Duchess of Cornwall and Cambridge. William is also now the 'heir apparent' to the British throne.
All Her Majesty's children, as well as grandson Prince William, had rushed to Balmoral yesterday (Thursday) after doctors became 'concerned' for her health. Buckingham Palace released a statement at 12.32pm saying the Queen's doctors were 'concerned' for her health and recommended she remain under medical supervision while family members were informed.
Charles was already at his mother's side at her beloved Highland home after senior aides, fearing the worst, sent the Queen's burgundy-liveried helicopter up from Windsor at 6.48am to collect him from Dumfries House in Ayrshire, where he had stayed the night after conducting several official engagements. He made it to Balmoral by 10.30am.
His wife, the Duchess of Cornwall, now Queen Consort, as Elizabeth II requested earlier this year, was already at Birkhall, the couple's Scottish retreat, and was driven over by car to join him.
It is understood that the Queen's daughter, Princess Anne, was already with her mother as she had been undertaking engagements in the area.
Staff hurriedly arranged for a jet to collect the Queen's other children, Prince Edward, the Earl of Wessex; and Prince Andrew, the Duke of York; as well as the Countess of Wessex, whom the Queen adores and treats like a second daughter, and bring them up to Aberdeen.
Her grandson, Prince William joined them. His wife Kate remained with their three children, who have recently started a new school.
The sombre family group arrived in Scotland at 4pm, sweeping through the gates at Balmoral in a Range Rover driven by William at 5.06pm. Although Buckingham Palace has not confirmed the time of death, it is thought that they were unable to see their much-loved matriarch before she died.
By coincidence the Duke and Duchess of Sussex, now sadly estranged from most family members, were in Britain from their home in California and due to undertake a charity engagement in London before flying back home to their children.
There was confusion when their spokesman initially said that both Harry and Meghan would fly up to Balmoral to join the family, which caused surprise as spouses would normally be unlikely to join close relatives at a time of personal grief, but it was later confirmed that Harry would travel alone and he finally arrived at his grandmother's home at 7.52pm. He was still in the air when the death was confirmed.
The Queen's death was finally announced at 6.32pm in a short black-edged statement from Buckingham Palace which read simply: "The Queen died peacefully at Balmoral this afternoon. The King and The Queen Consort will remain at Balmoral this evening and will return to London tomorrow."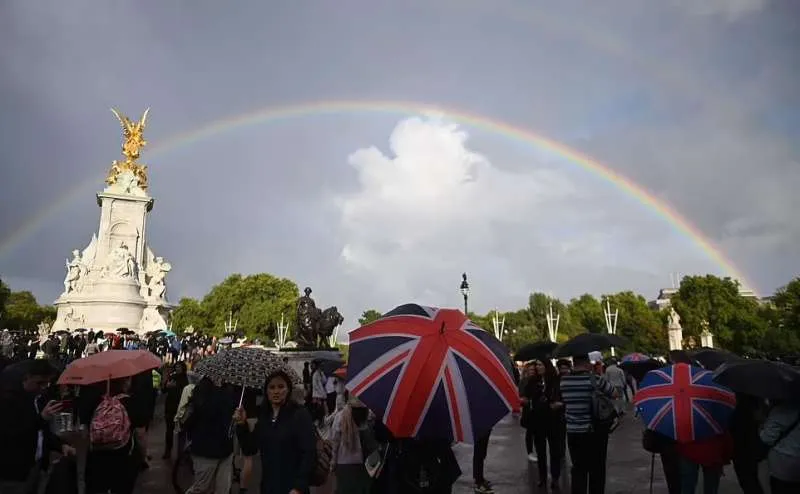 Rainbows appeared above Buckingham Palace and Windsor Castle shortly after the announcement was made.
Operation London Bridge:
Today Operation London Bridge will swing into action, the period of ten days between the Queen's death and her state funeral, which is expected to take place on Monday September 19th, as the country is plunged into a period of official mourning.
The Queen's coffin is expected to remain at Balmoral for at least the next two days before being flown back down to London next week, but the pendulum to introduce His Majesty to his people will also begin to swing, with Charles and Camilla returning to London as King and Queen Consort today. He is expected to hold his Accession Council tomorrow.
Last night Liz Truss hosted a meeting of ministers, police and royal officials to discuss arrangements for the period of mourning leading up to the Queen's funeral.
The Union flag on Buckingham Palace was poignantly lowered to half-mast yesterday, while a framed plaque of the statement announcing the Queen's death was placed on the front gates by royal household staff.
The Royal Standard is never flown at half-mast, even after the Queen's death, as there is always a monarch on the throne. Flags will fly at half-mast on UK Government buildings in tribute to the Queen from now until the morning after her funeral.
The Queen's death will see Britain and her Commonwealth realms enter into a ten-day period of mourning as millions of her subjects in the UK and abroad come to terms with her passing.
A number of big events have already been cancelled, including the BBC's Proms and its famous crescendo, Last Night of the Proms, which were due to take place on Friday and Saturday.
Charles, who will reign as King Charles III, said yesterday: "The death of my beloved mother, Her Majesty The Queen, is a moment of the greatest sadness for me and all members of my family. We mourn profoundly the passing of a cherished sovereign and a much-loved mother. I know her loss will be deeply felt throughout the country, the Realms and the Commonwealth, and by countless people around the world."
"During this period of mourning and change, my family and I will be comforted and sustained by our knowledge of the respect and deep affection in which the Queen was so widely held."