The Mediterranean Palace Hotel changes its iconic blue exterior for white
The Mediterranean Palace Hotel, a symbol of Las Americas in the 1990s located in the renowned "Golden Mile," is undergoing a transformation in its appearance, although the renovations are not expected to be completed until February.
The distinctive blue exterior of the hotel marked an era in the southern Tenerife tourism sector, making it easily recognizable as a five-star resort and an icon of the 1990s and early 2000s as it opened in 1988 and celebrates its 35th anniversary this year.
Part of the Mare Nostrum Resort complex, along with the Sir Anthony and Cleopatra, the iconic blue colour and the style of that era have already disappeared, making way for the white facade that now graces the building.
It is situated in the famed Golden Mile of Playa de las Americas, where all three complexes are undergoing a comprehensive renovation. Although the exact investment figure has not been disclosed, it is estimated to exceed 90 million euros, the amount needed to bring the facilities up to date after three decades since their opening.
The hotels, along with the auditorium they house, were acquired by the Canadian investment firm Brookfield in 2021 for €430 million, in a deal that also included three other resorts in Spain, two of them in Marbella and one in Barcelona.
After investing €430 million in all four complexes, Brookfield sold only one of them, the Princesa Sofía in Barcelona, for €180 million, highlighting the profitability of the overall transaction.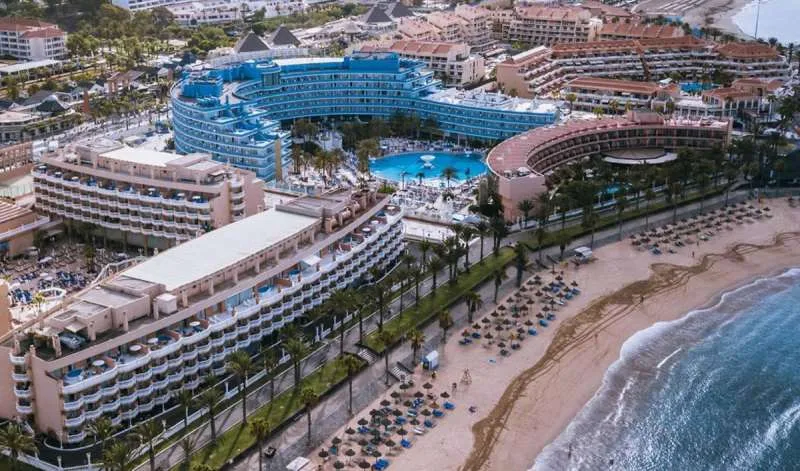 In the case of South Tenerife, the renovation plan included the closure of the oldest of the three, Mare Nostrum, and the Sir Anthony, with the latter set to reopen this month, followed by the closure of Cleopatra after that date.
However, sources familiar with the progress of the work have indicated that the renovations will not be completed this month, as evident when observing the surrounding area. They have now set February as the new deadline for the reopening of this iconic hotel and the closure of Cleopatra, all following the reopening of the five-star Sir Anthony.
For Cleopatra, renovation work had been scheduled to commence in September to allow for the completion of renovations at the other two hotels.
In addition to the three hotels, which together offer more than 1,000 rooms, Mare Nostrum also boasts the renowned Pirámide de Arona, Tenerife's largest auditorium, the Hard Rock Café, and the Palapa Beach Club.
Other articles that may interest you...