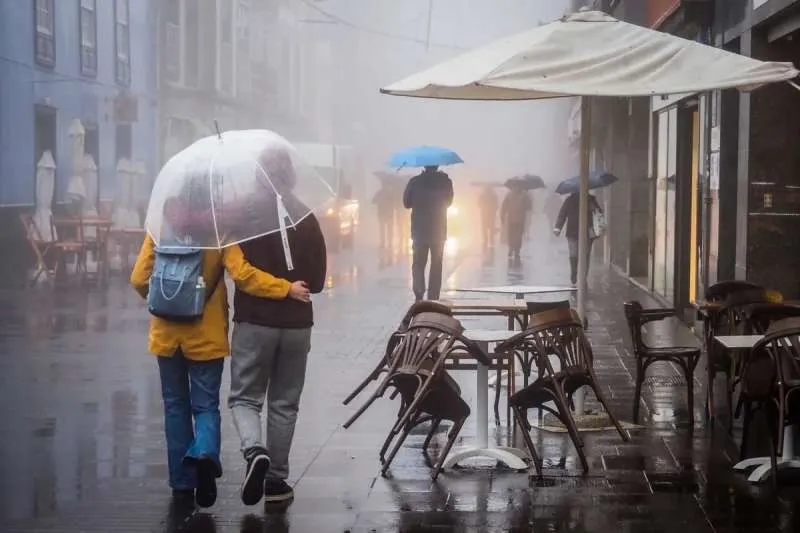 Orange and yellow storm warnings are activated in Tenerife and Gran Canaria
The State Meteorological Agency (AEMET) have activated an orange weather warning in the Canary Islands for gusts of wind that may exceed 90 kilometres per hour, and yellow weather warnings for rains up to 60 litres per square metre in twelve hours and winds of up to 70 km/h, due to the storm that is forming in the Atlantic and heading for the Canary Islands.
The orange weather warning will be active all day on Tuesday (June 6th) from 12:00am to 11:59pm for maximum gusts of wind up to 90 km/h in Tenerife and La Palma, mainly affecting the northwest slopes and summits of the two islands.
On the same day there will also be a yellow weather warning in La Gomera and El Hierro for winds forecast to reach 70 km/h on the summits, northwest and southeast slopes of both islands.
As for rain, AEMET has activated a yellow weather warning in the western islands (Tenerife, La Palma, La Gomera, El Hierro) and Gran Canaria, where up to 60 litres/m2 is forecast to fall in the North and west of Tenerife and La Palma in 12 hours, and up to 15 litres/m2 in the east, south, and west of Tenerife, Gran Canaria, La Gomera, and El Hierro in an hour.
The activation of these warnings is due to the interaction of a subtropical air mass (warm and humid) with a cold mass associated with an Atlantic storm, that will cause an increase in instability in the Canary Islands on Tuesday and Wednesday, something that is very unusual for this time of year.
Other articles that may interest you...