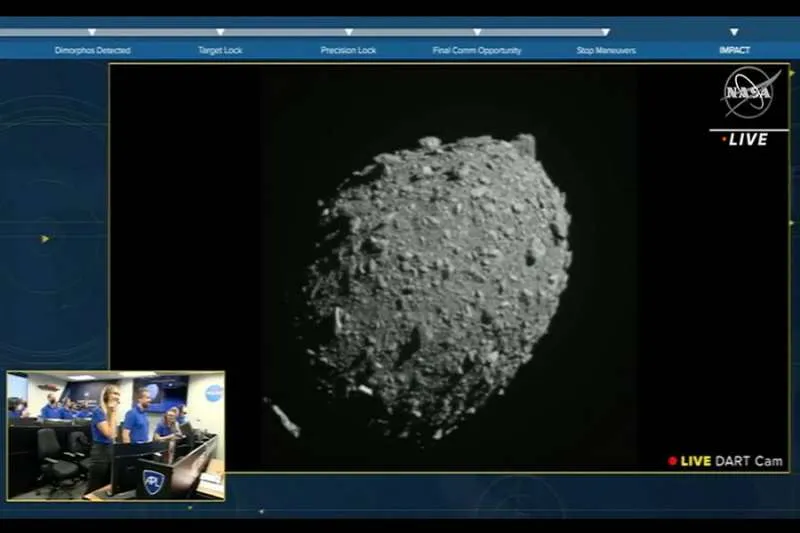 NASA successfully crashes a spacecraft into an asteroid in the first planetary defence test
NASA managed to carry out a planned collision against an asteroid yesterday (Monday) in what was the first ever planetary defence test with the aim of the course of the cosmic object from its orbit. The space agency celebrated with the message "Successful impact!" on Twitter alongside a video showing the impact and their reaction in Mission Control.
It felt like something from a science fiction movie as the DART (Double Asteroid Redirection Test) mission's DRACO camera showed live images of the vending machine-sized spacecraft successfully colliding with the Dimorphos asteroid, which is the size of a football stadium, but poses no threat to Earth.
The Dimorphos asteroid is 160 metres in diameter and revolves around a larger one called Didymos which is 780 metres in diameter.
IMPACT SUCCESS! Watch from #DARTMIssion's DRACO Camera, as the vending machine-sized spacecraft successfully collides with asteroid Dimorphos, which is the size of a football stadium and poses no threat to Earth. pic.twitter.com/7bXipPkjWD

— NASA (@NASA) September 26, 2022
DART was NASA's first attempt to move an asteroid in space. "As part of NASA's overall planetary defence strategy, the DART impact with the asteroid Dimorphos demonstrates a viable mitigation technique to protect the planet from an Earth-bound asteroid or comet, if one is discovered," they explained in a statement.
NASA Administrator Bill Nelson has called the test 'unprecedentedly successful', saying "It is also a mission of unity with a real benefit for all humanity."
"As NASA continues to study the cosmos and our home planet, we're also working to protect that home, and this international collaboration turned science fiction into science fact, demonstrating a way to protect Earth," he said.