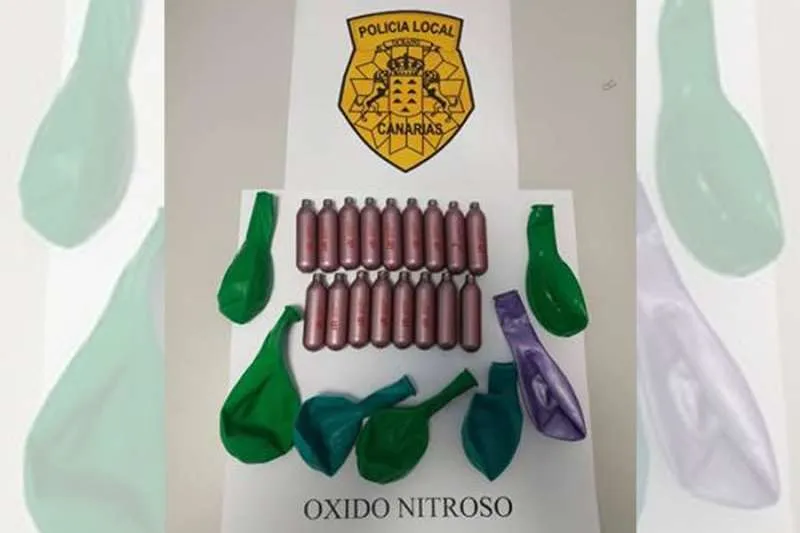 Local Police arrest man selling 'laughing gas' to tourists
Agents of the Mogán Local Police have intercepted a man in the nightlife area of ​​the Puerto Rico Shopping Centre in Gran Canaria, selling nitrous oxide capsules, popularly known as 'laughing gas', which when inhaled can cause hallucinogenic effects and a euphoric state.
Laughing gas is a short term 'buzz' that only lasts for a few minutes after it is inhaled via a balloon and is being sold in many clubs and fun pubs across the islands, but it is illegal to sell for this use and has some serious long-term side effects.
The man in Puerto Rico was in possession of 17 aluminium capsules of the gas and coloured balloons for its preparation and consumption. Agents saw him offering it to a tourist and, being surprised, he tried to leave the commercial centre but the police managed to stop him and arrested him for selling an illegal substance.
Nitrous oxide, commonly known as laughing gas or happy gas, is a colourless, non-flammable gas which is used in medical and dental procedures as a sedative. Nitrous oxide is safe to use under the proper care of a doctor and is a depressant, so it slows your body down and makes you feel happy, giggly, and relaxed.
However, it can be extremely dangerous and is illegal for recreational use. Wrong implementation or prolonged use can lead to:
- Low blood pressure.
- Fainting.
- Heart attack.
- Memory loss.
- Incontinence.
- Depression.
- Psychological dependence.
- Weak immune system.