Kayaking and 'rain' surfing down the streets during tropical storm Hermine
The police have denounced the 'irresponsible behaviour' of some people during the maximum alert activated for heavy rain due to tropical storm Hermine in the Canary Islands, after pictures and videos have surfaced online of some of their actions, and actually catching people carrying out activities are not permitted.
Yesterday was the wettest day since records began in the Canary Islands, with the east coast of La Palma having 345 litres/m2, which is more than 20 times usual amount for the whole of September.
Many people can't see the bigger picture of the emergency situation as it is isn't, or hasn't, rained heavily where they are, and don't realise that activities are not permitted or cancelled due to pressure on the emergency services because of the storm and the incidents it has caused.
This includes why schools are closed today, as police resources are allocated in other areas due to the alert, and also that schools need to check for flooding and damage due to the storm.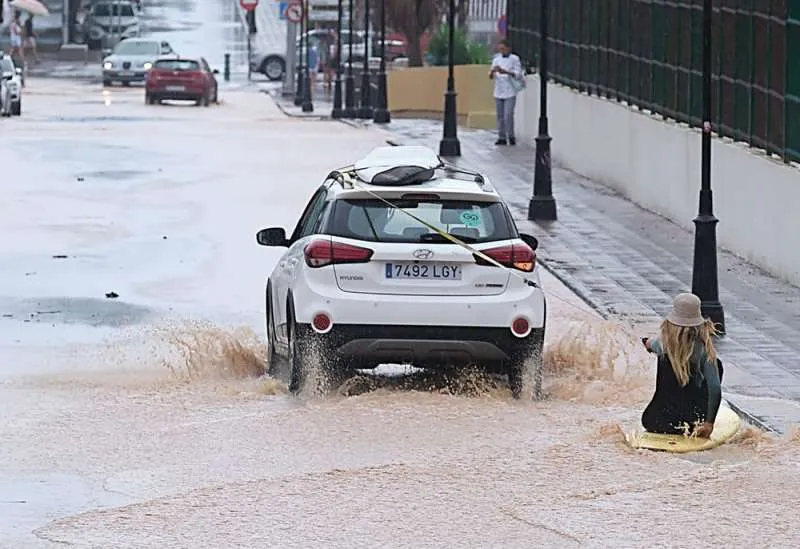 In Anaga, in Tenerife, a group of hikers were sent home by police after they came across eight cars parked up and people wanting to go on the trails through the forest, completely oblivious to the situation, and on the east coast of Tenerife, the area with the most rainfall, a group of scuba divers were ordered out of the water by Las Eras as this type of activity is suspended.
However, one person in Santa Lucía de Tirajana, took advantage of the fact that the water was running through the Balos ravine, to navigate it in a kayak at around six o'clock yesterday afternoon (Sunday). The Local Police proceeded to identify him and fined him for imprudence.
A group of Italian tourists in Corralejo (Fuerteventura), took advantage of the pockets of water formed on the roads to "surf" one of the streets flooded by the heavy rains.
All outdoor activities are cancelled until the weather warnings have been lifted, but schools open as usual tomorrow.