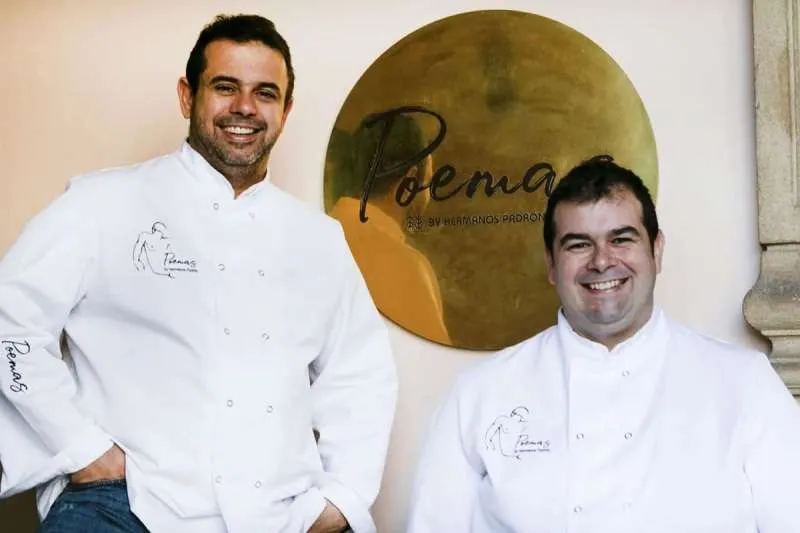 Five new Michelin stars for restaurants in Tenerife and Gran Canaria
The Canary Islands have added five new Michelin stars and a Bib Gourmand award that were unveiled at the Michelin Spain and Portugal gala last night. Three restaurants were recognised again and two entered the prestigious guide for the first time.
The Padrón brothers, Jonathan and Juan Carlos, have added another Michelin star to the one they had already at their El Rincón de Juan Carlos restaurant at the Royal Corales Hideaway hotel in La Caleta in Costa Adeje, and they've also maintained recognition for Poemas by Hermanos Padrón at the Santa Catalina hotel in Las Palmas de Gran Canaria, headed by female chef Icíar Pérez.
This means the Canarian brothers now have three Michelin stars between their two restaurants which are managed by their wives, María José Plasencia and Raquel Navarro, head waiters and sommeliers.
In the same hotel in the south of Tenerife, the Royal Corales Hideaway, is San Hô, which is a Peruvian-Japanese fusion restaurant with a Canarian accent, which had aroused the interest of the Michelin Guide inspectors before, as they had recommended it several months ago in the guide.
The restaurant is led by chef Adrián Bosh and Eduardo Domínguez, who offer two tasting menus: Esencia and San Hò, making the most of local produce.
The third star in the Canary Islands fell to the Tabaiba restaurant near Las Canteras beach in Las Palmas, by chef Abraham Ortega and pastry chef Áser Martín, the first born in Gran Canaria, and the second in Buenavista del Norte in Tenerife.
Tabaiba's cuisine remains faithful to its commitment to Canarian products with presentations that evoke visits to the beach or childhood memories. Since its opening, they have managed to spread the word about the excellence of their innovative cuisine with roots in Canarian produce.
The Michelin Green Star is a decoration that appeared for the first time in Spain in December 2020, with the intention of rewarding restaurants that implement good practices concerning the environment. Until now, no restaurant in the Canary Islands had achieved this award.
However, this year it has been rewarded to Muxgo restaurant, by chef Borja Marrero, at the Catalina Plaza hotel, in the capital of Gran Canaria. Marrero has created a sustainable menu in Muxgo based exclusively on the Canarian prickly pear.
Lastly, San Sebastián 57, located on the same street and number in Santa Cruz in Tenerife, by chef Alberto González Margallo, has been rewarded a Bib Gourmand, which is a recognition for those that maintain good value for money.