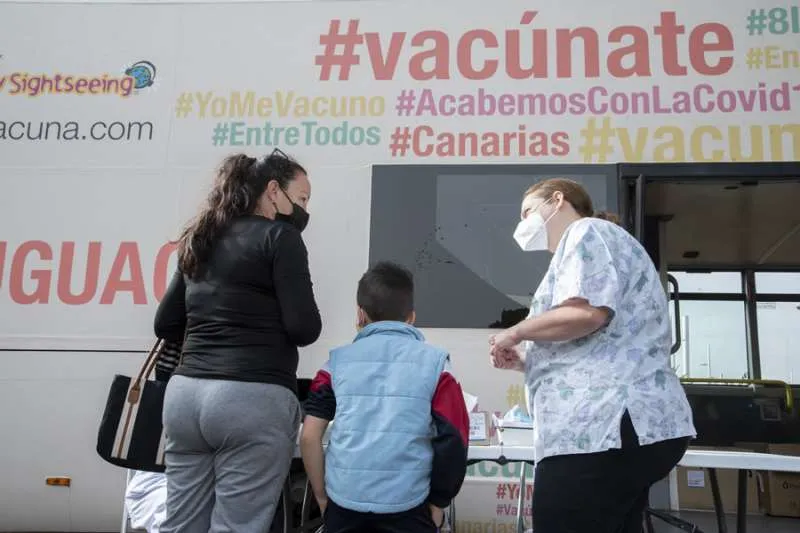 Covid update: 5,426 new cases and 6 deaths since Friday
The Ministry of Health has updated the Covid data in the Canary Islands today (Tuesday), confirming 5,426 new cases of coronavirus since Friday. This takes the total number of cases in the islands to 333,329 since the pandemic began.
In addition, six more deaths have been registered, bringing the total number of victims to 1,617. Four of them were in Gran Canaria and two in Tenerife; all were aged over 70 years old and were classed as 'vulnerable'.
By islands, Gran Canaria has 2,996 new infections, followed by Tenerife with 1,558; La Palma has 327; Fuerteventura 226; Lanzarote 192; La Gomera 103; and El Hierro 24.
Active cases have dropped as there were more people discharged than new infections, so now there are 13,801 active cases in the Canary Islands, of which 28 are admitted to ICU, 263 are hospitalized in wards, and 13,510 are isolated at home.
The President of the Canary Islands, Ángel Víctor Torres, also announced today that the Canary Islands will eliminate all local Covid restrictions on Thursday in the Governing Council meeting. These are all the restrictions imposed locally by the Government and not those by the central Spanish Government.
Full data for Tuesday 22nd March 2022:
(Changes are compare to Friday 18th March)
New cases: 5,426
Gran Canaria: 2,996
Tenerife: 1,558
La Palma: 327
Fuerteventura: 226
Lanzarote: 192
La Gomera: 103
El Hierro: 24
Current Incidence rate (IA7): 439.21
(Cases last 7 days: 9,557)
La Gomera: 987.18
La Palma: 757.27
Gran Canaria: 513.02
El Hierro: 439.58
Tenerife: 419.99
Fuerteventura: 146.16
Lanzarote: 127.08
Current Incidence rate (IA14): 871.43
(Cases last 14 days: 18,953)
La Gomera: 1,872.87
La Palma: 1,425.87
El Hierro: 1,390.51
Tenerife: 981.15
Gran Canaria: 849.66
Lanzarote: 312.56
Fuerteventura: 287.31
General:
Covid patients in hospital: 263 (-26)
Covid patients in ICU: 28 (-4)
Home isolation: 13,510
R number: 0.95 (needs to be below 1)
PCR test positivity rate: 30.30% (should be below 4.5%)
Vaccination: (latest update)
Total administered: 4,330,347
Fully vaccinated: 1,770,050 people (84.38%)
One dose: 1,836,396 people (87.54% now includes 5-11 age group)
Children aged 5-11: 70,988 (51.85%) first dose and 41,668 (30.43%) second dose.
Booster doses: 852,892
Deaths: 6
Gran Canaria: 4 (589)
Tenerife: 2 (886)
Total deaths: 1,617
Medical Discharges: 6,562
Tenerife: 3,448
Gran Canaria: 2,212
La Palma: 359
Fuerteventura: 226
Lanzarote: 170
La Gomera: 97
El Hierro: 50
Total active cases per island:
Total: 13,801
Tenerife: 6,241 (-1,982)
Gran Canaria: 5,948 (+780)
La Palma: 754 (-32)
Fuerteventura: 336 (-)
La Gomera: 274 (+6)
Lanzarote: 219 (+22)
El Hierro: 29 (-26)