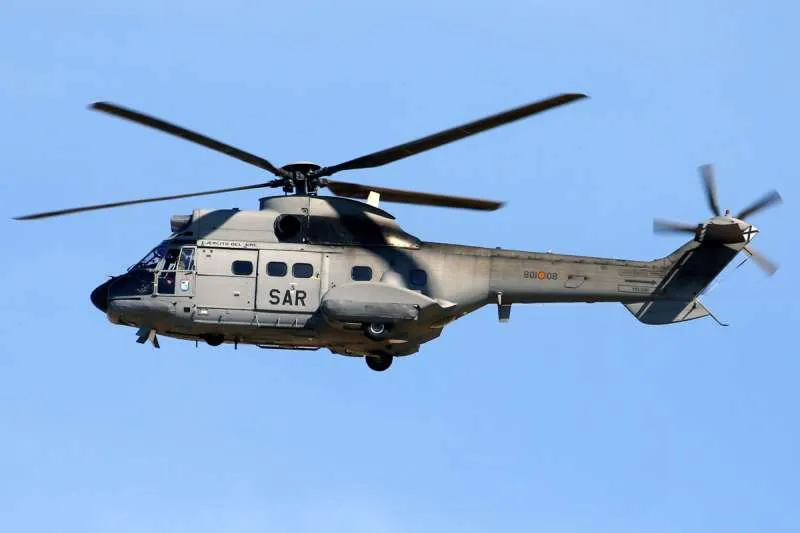 A military helicopter collides with rocks in the south of Gran Canaria
The Air Force have released details of a military helicopter based in Gran Canaria, that suffered an accident on at 10pm on Tuesday (April 18), while carrying out a night practice in the south of the Island. The Superpuma (HD-21) was flying at very low altitude above the sea and crashed against rocks along the coast.
The three crew members escaped unharmed and the main hypothesis being considered as the cause of the accident is human error as the exercise consisted of landing with night vision goggles.
The helicopter is one of the SAR (Search and Rescue, popularly known as Air Rescue Service) units attached to the Gran Canaria Air Base, located in Gando next to the island's commercial airport. Night exercises are common in army training, but what has not been explained by the Ministry of Defence is why it was flying at sea level and heading towards land.
Due to this, the lower part of the fuselage collided with rocks, and despite the impact, described as "light" by the authorities, the helicopter was able to continue in the air and return to base, but then experienced problems with the damaged fuselage. The official version maintains that the landing took place "without notable incidents."
According to the Government, an investigation has been opened to clarify the cause of the accident. In these cases, this investigation is directed by a commission of experts sent from Madrid that is not yet on the island.
What does remain is that the three crew members were very lucky because the accident could have cost them their lives. Technical problems in the helicopter are ruled out in principle, which is why it points to human error, either due to overconfidence or the execution of a very risky manoeuvre.
Pilots at the Gran Canaria base are always very aware of the two fatal accidents that occurred in the past decade. In March 2014, during routine practice 30 miles off the coast of Fuerteventura, two pilots and two mechanics died. The only survivor of the incident, Sergeant Jhonander Ojeda, died a year and a half later in another accident, in which the two pilots also died when they were returning to their base in Gran Canaria from Mauritania.
As a result of these two incidents, involving two old helicopters, the Ministry of Defence modernized its fleet with several latest-generation Superpumas costing 18 million euros each.