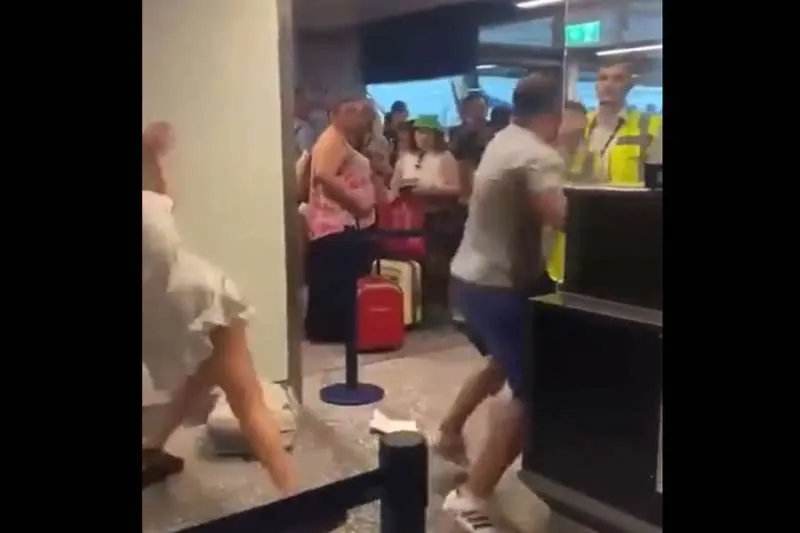 VIDEO: Drunk British tourist punches airport security for not letting him on plane
Many people are questioning why parts of Spain are introducing new rules and laws to prevent a certain type of tourist, the alcohol-fuelled 'lager lout' that unfortunately, a minority of Brits have labelled a large part of British tourism, but a video that went viral in Spain yesterday highlights why.
A couple at Bristol airport travelling to Alicante with EasyJet were warned by airport security at the boarding gate that they would not be allowed on the plane because they were drunk.
All travellers know that this is for safety reasons, and wouldn't want passengers in this state on the same plane as them.
However, as you can see in the video the couple wouldn't accept what the security staff were telling them, and the female started yelling insults and swearing at them before her partner pushed her to the floor out of the way and punched one of them in the face.
Vuelo de EasyJet entre Bristol y Alicante en el día de ayer.
Se deniega el embarque a este "simpático" turista que presentaba claros signos de intoxicación etílica.
Estos son los visitantes de calidad que estamos esperando en España...🤮#Turismo #easyjet #viajar #vacaciones pic.twitter.com/MPXxN3n2tK

— Turama (@turama_es) June 27, 2022
Fortunately, the police intervened and prevented any further altercations, arresting both the aggressor and his partner for being drunk and disorderly and grievous bodily harm.
The video has gone viral around Spain showing the incident, with captions such as "These are the quality visitors we are waiting for in Spain", and "Is this the type of tourist we want in Spain?"
The new rules and regulations in parts of Spain, especially the Balearic Islands, include fines for not wearing a t-shirt or only wearing swimwear in the street, limiting drinks at all-inclusive resorts, and prohibiting the sale of alcohol in shops after a certain time, are because Spain is fed up of alcohol-fuelled tourism, the problems that go with it and the negative image it portrays of them as a holiday destination.