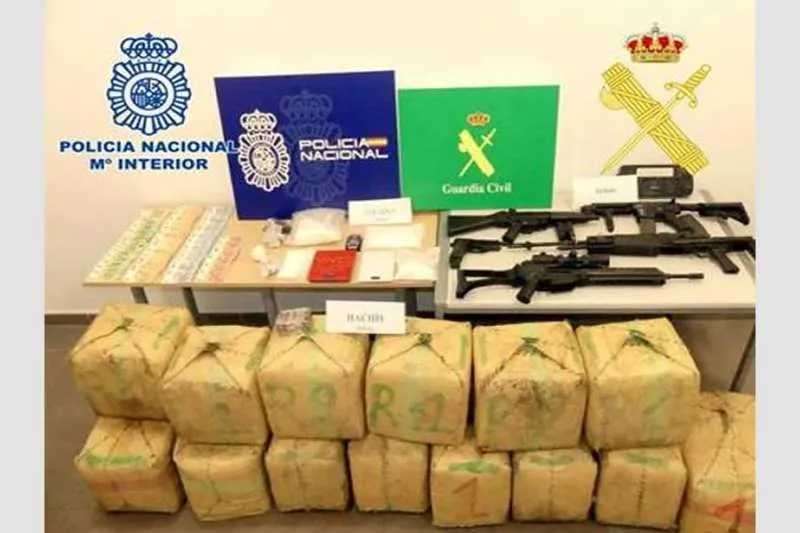 Two arrested after 450 kilos of hashish found in a storage room in Tenerife
Agents of the National Police and the Guardia Civil have arrested a 51-year-old man in Santa Cruz, after finding 460 kilograms of hashish, 1kg of cocaine, and 6,500 euros in cash in a store room that he rents in the city. The hashish, divided into 14 bales, was still wet and it seems belonged to a cache that had just entered Tenerife.
Inquiries made by the investigators led to a storage facility rented by the man in Los Majuelos where they found the stash, so, after obtaining the corresponding judicial authorization, officers arrested him entered and searched his home as well as a new nightlife venue that he was planning to open La Laguna.
During these searches, agents seized another 20 kilograms of hashish, 100 grams of cocaine, a press for cocaine packages, and other equipment for weighing, cutting, and preparing the drug to sell.
Investigators learned that the already arrested man had a close collaborator, a 63-year-old man, who has a previous history of trafficking of narcotic substances in Tenerife.
This second man was arrested at his home in Santa Cruz after agents got judicial permission to enter and search his property, where different narcotic substances and weapons, including semi-automatic guns, machetes, knives, axes, and special 38 caliber ammunition were seized.
After receiving the detainees and police reports, the judicial authority ordered their entry into preventive detention where they are awaiting trial. The investigation is ongoing to find the source of the drugs.