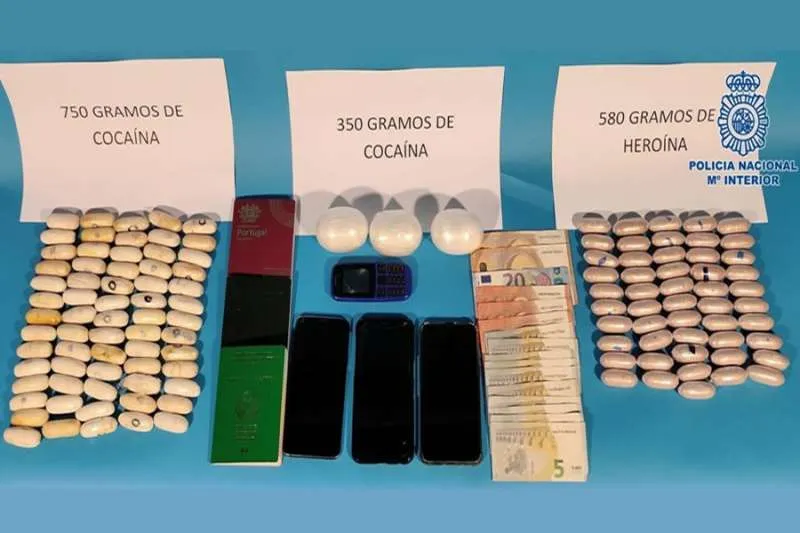 Three drug mules arrested with 1.6kg of cocaine and heroin in their bodies
The National Police at Arrecife airport have arrested three men aged 40 and 41 years old, all of from Guinea Bissau in West Africa, for being drug mules after scans found suspicious packages inside their bodies, which turned out to be class A drugs.
The arrests took place at the César Manrique airport in Lanzarote on January 23rd, after agents suspected that the island was being used as a route by mules bringing drugs in from Gran Canaria.
The three men seemed to have arrived independently but were all stopped as they were seen travelling to and from Gran Canaria on regular occasions with no luggage, and after identifying them, found that they all had police records for drug offences.
Due to this, they were searched and subsequently had radiological tests, which revealed that all three men were concealing capsules of drugs in their bodies. One of them had 750 grams of cocaine, the second had 350 grams of cocaine, and the third had 580 grams of heroin.
After carrying out all the corresponding steps, the three men were arrested and charged as alleged perpetrators of a crime against public health, and the corresponding police report instructed that all three were placed at the disposal of the competent Judicial Authority, who ordered the immediate imprisonment of all of them.
The police would like to warn people how dangerous acting as a drug mule is, as it only takes one of the packages to split in any way, and the resulting amount of drugs going directly into your bloodstream would be enough to kill you.
Other articles that may interest you...