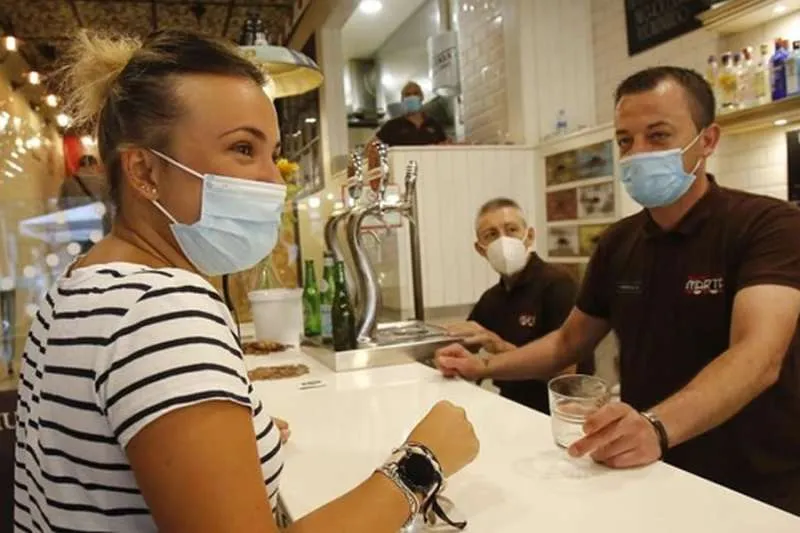 The head of Public Health says the end of masks indoors is now 'very close'
The president of the Spanish Association of Vaccinations, and head of Public Health, Amós García, stated today, Tuesday, that we are now "very close" to being able to stop using masks indoors because the trend of new infections of Covid-19 is descending throughout the country.
"We are on the right track but not yet at the point that we can get rid of all restrictions", he said in statements to Europa Press in which he points out that measures are already being relaxed but they still cannot "give an exact date", but that in his opinion, "I don't think we're far away, but I can't say if it's going to last a week, two weeks or three weeks more."
García admitted that the increase in the incidence rates of more than 40% last week in the Canary Islands is not a question of any different epidemiological behaviour from that of the mainland, but rather that the backlog of data is now being uploaded because there was not the capacity to do so during the high peaks of the sixth wave.
For this reason, he too emphasized that the important thing now is to analyse the hospital pressure due to Covid-19, and there is "clearly" a decrease in this too, something that he attributes to a new scenario created by the "brutal impact" of Omicron across Europe, which combined with high vaccination rates has generated a broad natural immunity.
Garcia says that this is a turning point in the evolution of the pandemic and he believes that spring will be key to knowing the future of Covid-19 and if it definitely passes into an endemic because this type of viruses, with time, lose virulence.
"YOU CAN NOT LET YOUR GUARD DOWN YET"
However, he insisted that the guard cannot be completely lowered yet, since there are still around 1,000 infections per day in the Canary Islands, but three or four weeks ago they were around 5,000, so the trend is downward.
In addition, he agrees that the virus is here to stay and will be incorporated into the "catalogue" of usual coronaviruses, and that the objective is to turn it "just another one" and eliminate the dramatic burden of deaths and admissions to ICU, through increased use of vaccines.
Regarding the possible appearance of new variants, he commented that "it will not be developed countries that new variants come from because they have more than 70% vaccination rates, but underdeveloped and developing countries have unacceptable figures which makes it possible for the virus to continue circulating and producing new cases, and therefore possible mutations and new variants".