The first stone of the new Cuna del Alma luxurious tourist village is laid in Adeje
Yesterday (Friday) the first stone was placed as a symbol of the future mega construction, the tourist village Cuna del Alma in El Puertito, in Costa Adeje in the South of Tenerife. The event was attended by well-known representatives of the tourism and hotel sectors, politicians, and the project's investors, as this, the first construction of this size and stature presented and being started since the pandemic.
The developers uncovered the foundation stone and its commemorative plaque explaining that the first 106 units, which are luxury villas, beach apartments, and houses with private terraces with pools and ocean views, bordering the beach.
In total the complex will consist of 420 units covering an area of 437,000m2 with an investment of close to 350 million euros. The first phase, to be completed in 2025, includes:
- 36 Casita Houses (1 to 4 bedrooms) from 85 to 129m2
- 32 Beach Apartments (1 to 3 bedrooms) from 80 to 163m2
- 20 Valley Villas (1 to 4 bedrooms) from 139 to 349m2
- 18 Grand Villas (3 to 4 bedrooms) from 432 to 650m2
- A farm covering 20,000 m2.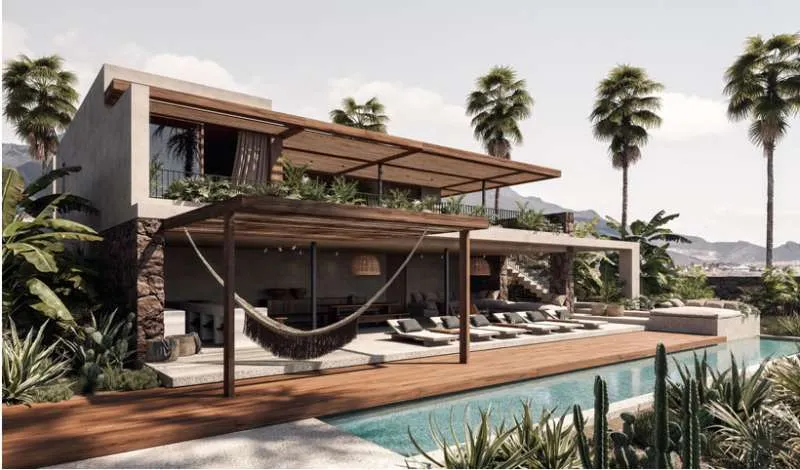 Cuna del Alma is funded by two Belgian investment families, Vandermarliere and Van Biervliet, both have an extensive portfolio of real estate projects and experience in the hotel and real estate sector that includes developments such as Baobab Suites and the Corales Resort in Costa Adeje in Tenerife.
The complex will be ideal for families and friends who wish to visit its facilities, which will also have a 'natural pool' built into the rocks with turquoise waters, a children's club, and a Spa, where all guests can enjoy the luxurious beach club that will be the epicentre of the Cuna del Alma.
Cradle of the Soul, a new interpretation of Luxury:
The investors behind the complex, Sofie Vandermarliere and David van Biervliet, said that "their vision behind Cuna del Alma was to establish a modern location for the tourists of Tenerife", they highlighted the importance for them of pursuing changes in society with a new product of accommodation based on sustainable principles "respecting nature, with a new interpretation of luxury".
Cuna del Alma is the result of the collaboration of Tenerife and international designers and architects based here on the island, and around the world.