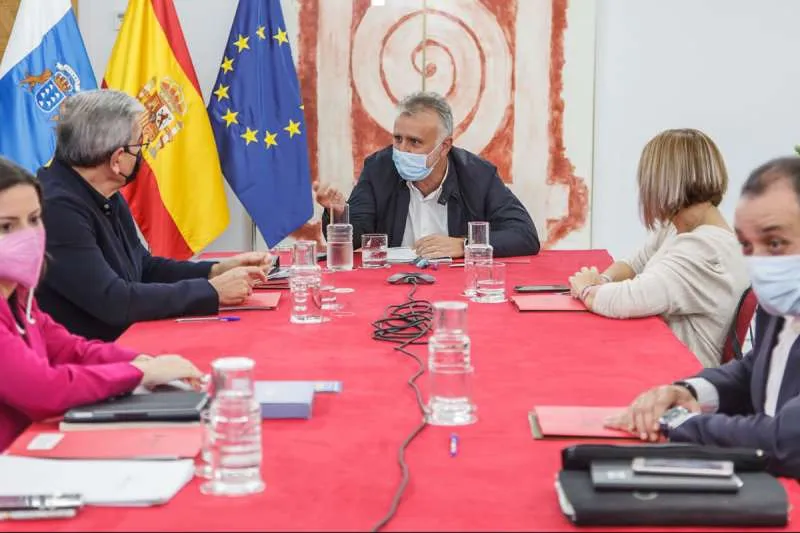 The Canarian Government will continue to relax more restrictions today
According to the latest data from the Ministry of Health, exactly half of the municipalities in the Canary Islands, 44 ​​of the 88, have all indicators related to the circulation and incidence of coronavirus at very high risk, despite the decrease for the islands in general which stopped, but then dropped yesterday to 408 over 7 days compared to the high of 1,717 on January 15th.
However, the gradual decrease in hospital pressure, which is the main parameter that the Public Health Committee is using to manage the pandemic, will allow the Canarian Government to continue today with the de-escalation process making more anti-Covid measures more flexible.
The prediction for today is that, among other things, the Governing Council will ease restrictions that affect certain activities, such as cultural ones, ie cinemas, theatres, and events. In addition, due to the improvement in its care indicators, it is likely that Gran Canaria will join the other islands and drop to Level 3.
LATEST EPIDEMIOLOGICAL REPORT:
Yesterday there were 345 people hospitalized with Covid in the Canary Islands, which is 51% less than at the beginning of February. However, the incidence is reluctant to go down as quickly as in the rest of Spain and the Canary Islands is the region with the highest rate of infections.
According to the latest report, in Gran Canaria, the biggest municipalities with the highest population have all four indicators at extreme risk, that is, the IA7 and IA14 both for the general population and those over 65 years old. Las Palmas has an IA7 of 536; Telde is at 590; San Bartolomé de Tirajana 642; and Santa Lucía de Tirajana is at 539. The towns with the highest infection rates are Ingenio (757 cases over 7 days), Mogán (724), and Moya (723).
Tenerife has better epidemic indicators, but the incidence of the virus in its main population centres is at very high risk. Santa Cruz has a 7-day incidence rate of 480; La Laguna is at 449, and Arona is the next highest with 372.
In Fuerteventura, Puerto del Rosario, with a seven-day incidence of 389, and Pájara (295) are the towns with all their parameters at high risk. While in Lanzarote, only Tías has its virus transmission indicators at this alert level, with a 7-day incidence rate of 286.
Yesterday the Ministry of Health reported the death of a 92-year-old infected person in Tenerife and 975 new cases, 55% less than last Wednesday, and there are currently 14,499 people on the islands dealing with the virus.
Since the start of the pandemic 292,922 cases of coronavirus have been confirmed in the archipelago, of which 276,847 have overcome the infection while 1,576 have died of the virus.