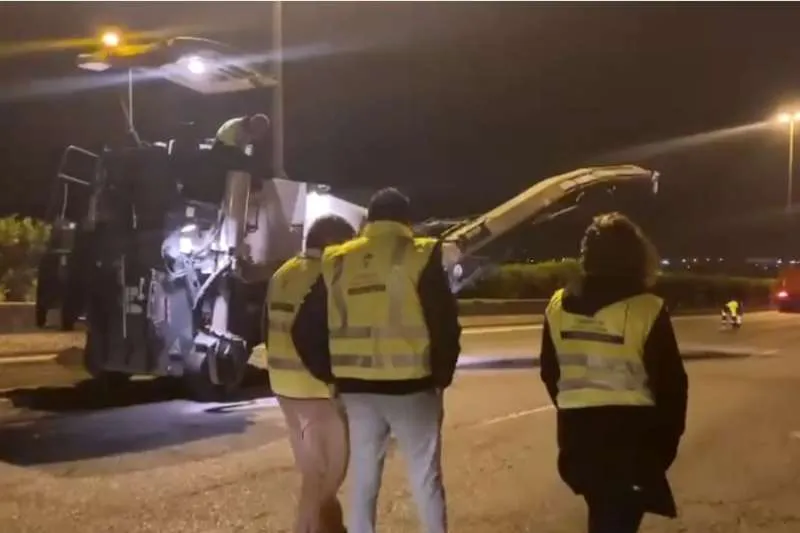 The Cabildo starts resurfacing the GC-1 with junction closures and diversions
The Ministry of Public Works of the Gran Canaria Cabildo began resurfacing the GC-1 motorway last night (Tuesday), the busiest road on the island that has over 200,000 vehicles using it daily. They will be working for the next 20 working days at night time from Sunday to Thursday to reduce the impact on traffic during the day.
The Minister of Public Works, Miguel Ángel Pérez, visited the works last night and said "the rehabilitation of this high-capacity road will increase the safety for drivers who use it. Each night approximately 800 metres of the road will be resurfaced using approximately 400 tons of asphalt.."
The asphalting of the GC-1 has a budget of 600,000 euros and is being carried out between 11pm and 6pm overnight, with the necessary signalling, junction closures, and diversions in place every night, with only one lane being worked on at a time.
The four sections of work and their planned diversions are as follows:
Section 1: GC-1 towards Las Palmas-South, between kilometre points 14 and 15, which is the Plaza de Toros-Santa Rita area (detour through the El Goro Industrial Estate).
Section 2: GC-1 towards Las Palmas-South, between kilometre points 15 and 17, the Airport-Arinaga area (detour through Ojos de Garza).
Section 3: GC-1 towards Las Palmas-South, Airport-Arinaga area, between kilometre points 21 and 22 (detour through the Las Puntillas junction, GC-191).
Section 4: GC-1 direction South-Las Palmas, right-hand lane, between kilometre points 19 and 21
In addition to these sections, the Air Base junction, the underpass to the Airport, and the Las Puntillas junction will also be resurfaced.
This work is part of the resurfacing and rehabilitation work of the Gran Canaria road network that is being carried out by the Cabildo with an investment of 18 million euros over two years.