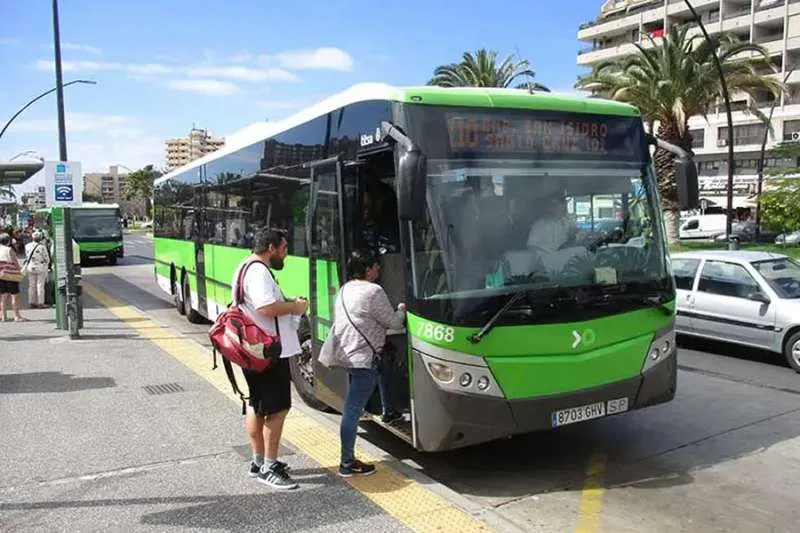 The Cabildo reduces cost of monthly bus passes by up to 13 euros in Tenerife
The Tenerife Cabildo have confirmed they are reducing the rates for people who regularly use public transport from September 1st, by 34% (13 euros), both for Titsa buses across the island, and the tram in Santa Cruz and La Laguna. This means that the monthly Bono for residents will be reduced from 38 to 25 euros, and additionally, there will be discounts for other groups.
The island's president, Pedro Martín, says that "this measure will help alleviate the extra costs that people are facing with the general rise in prices, and will help more and more people use public transport on a regular basis on the island."
He also indicates that the rate reduction will be extended to other groups, including young people, people over 65 years of age, and people with disabilities. "We intend to work along the same lines and continue it for a long time, also relying on initiatives that the Government of Spain has taken," he added.
The island councillor for Mobility, Enrique Arriaga, spoke about this reduction at the plenary session of the Cabildo, which exceeds the 30% required by the State to take advantage of temporary subsidies for transport, and which will be applied beyond December 31st into next year.
Arriaga explained that "the reduction in rates will be applied to regular users through the different monthly subscriptions that the Cabildo has in operation, both in Titsa and in Metrotenerife, and will continue to be applied beyond December 31st with or without the help of the State since the Cabildo, through the Department of Mobility, will have the economic abilities to make it possible, assuming its cost with its own funds.
Specifically, said Arriaga, "the monthly bonus for residents in the Canary Islands will be reduced by 13 euros, going from 38 euros per month to 25 euros, a reduction of 34.3%. Also those under 30 years of age, those over 65 years of age, and people with disabilities will see their subscription reduced, in this case by 10 euros, going from 30 euros to 20 euros per month, a reduction of 33%.
"With this reduction in rates, not only is transportation easier and cheaper for current frequent users, such as students and the working class, but we also hope to attract part of the users who currently use private vehicles to get around" insists Arriaga.
He explained that the department's estimates foresee that, with the announced reduction in fares, the number of trips on public transport will increase by around 10%, half due to the increase in its use by current customers, and the other half due to new regular users for public transport. With this, it could be possible to remove some 15,000 vehicles from the roads every day, reducing the congestion as well as CO2 emissions.
Other articles that may interest you...