Tenerife hailed as one of the top destinations in the world for cyclists
Europe steals the spotlight when it comes to cycling, but if you want to train, or just ride where the European pros go, then Tenerife is a sweet cycling oasis and the training spot of choice for some of the biggest names in the sport, including Chris Froome who has regularly been seen practicing for those mountain stages in the Teide National Park that has longer climbs than you'll find almost anywhere else in the world.
For cyclists escaping cold winters, Tenerife offers a blissfully boring daily weather forecast with over 300 days of sun per year and temperatures averaging 20°C in the winter and 25°C in the summer, something that professional cycling teams have been taking advantage of, as they can get exposure to the heat earlier in the year than if they'd stayed in continental Europe.
In addition to the climate, is the dazzling array of terrain cyclists can find on this 'two-sided' island, the trade-wind-exposed north side is lush and tropical, with more rainfall inland and on the peaks, then in the south, you leave behind the crosswinds and clouds for dry, barren, wind-protected terrain... so if you don't like the weather where you are in Tenerife, just head to the other side of the volcano!
Former Team Sky coach, Tim Kerrison, who has regularly held training sessions on the island, says, "There's just the right amount of altitude. The hotel we stayed at is at 2,150 meters above sea level in the Teide National Park", the most visited national park in Europe.
"It's perfect for the riders to acclimatize to the altitudes they'll have to race in the Tours. It's also ideal because riders can 'sleep high' but 'train low' for optimum training adaptations. We climbed from sea level to 2,300 metres continuously," says Kerrison, noting that you can't find that same uphill duration anywhere else in Europe.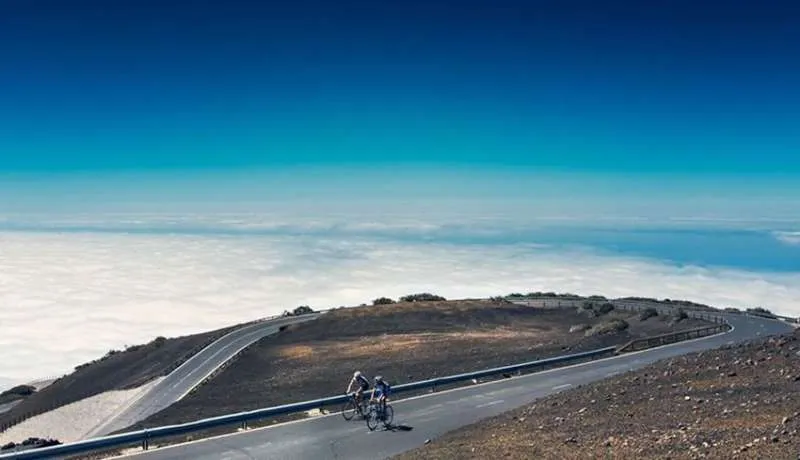 This idyllic blend of sea level, altitude, and abundant sunshine made Tenerife the destination of choice for two-time Tour de France winner, Alberto Contador. "I like Tenerife, not only for the nice weather and the altitude but also because a good training camp location gives me the possibility to be completely focused on the work on the bike," he said.
Besides being home away from home for the pros, it's increasingly popular among amateur riders seeking a slice of cycling paradise. According to Turismo de Tenerife, nearly 22% of Tenerife's pre-pandemic visitors rode a bike. "Traffic is very understanding of cyclists because it's becoming a big industry on the island," says the CEO David Perez.
Anyone on the island has every reason to be good-natured, as, in addition to boasting idyllic weather, your money goes a long way here. Food and drink are reasonably priced, bike rentals are as affordable as they are best in class, and rural accommodation for cyclists is available from 30 euros a night between January and May, which is generally when the pro teams stay.
On top of all this, there are the beaches that circle Tenerife's Andes-like topography where you can chill after a day on the bike. Of course, there are plenty of non-bike-related activities like whale watching, shopping, and golf for rest days or friends and family who aren't all about the bike, and the number one water park in the world, as voted by TripAdvisor, Siam Park. However, if TripAdvisor had a yellow jersey for cycling, Tenerife deserves it.
Other articles that may interest you...