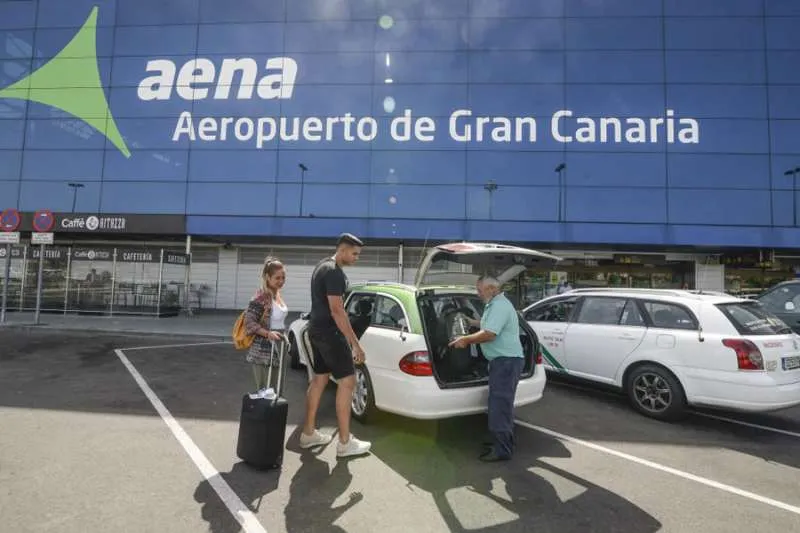 Taxi drivers propose a maximum flat rate of 30 euros for trips to the airport
The Unified Taxi Association in Gran Canaria (Autaxi-GC) has submitted a proposal to the Las Palmas City Council in which it raises the possibility of establishing a maximum flat rate for services provided from the city to the airport. The intention is to set a maximum price of 30 euros for journeys to and from the Gran Canaria airport.
At the moment, a trip to Gran Canaria airport from La Isleta is around 33 euros, while from San Telmo it is around 27 euros. The proposal also suggests that the maximum price will be set at 35 euros on Saturdays, Sundays, bank holidays, and during the night tariffs (from 10:00pm to 6:00am).
The president of Autaxi-GC, Ramón Almeida, explains that "the change we intend is to offer the user security and a guarantee of what they are going to pay for the service so that the customer does not have the uncertainty of what the journey will cost".
"We propose that the taximeter will start up as in any service until the end of the journey, but will stop counting when it reaches the price stipulated as the maximum established, regardless of whether or not the destination has been reached."
"This means the passenger will always know the maximum amount to be paid for the service. If, on the contrary, the cost of the journey does not reach the maximum amount, they will only pay the amount shown on the meter at the end of the journey."
In addition, they believe that this will make it easier to advertise their services on the internet, especially as more and more tourists are coming with a complete package and are booking things in advance.
Almeida added that "if the big capitals established these types of rates to encourage the use of taxis, more people would use them, without the uncertainty and questions about the price of airport trips, one of the most asked questions on groups and forums on the internet."