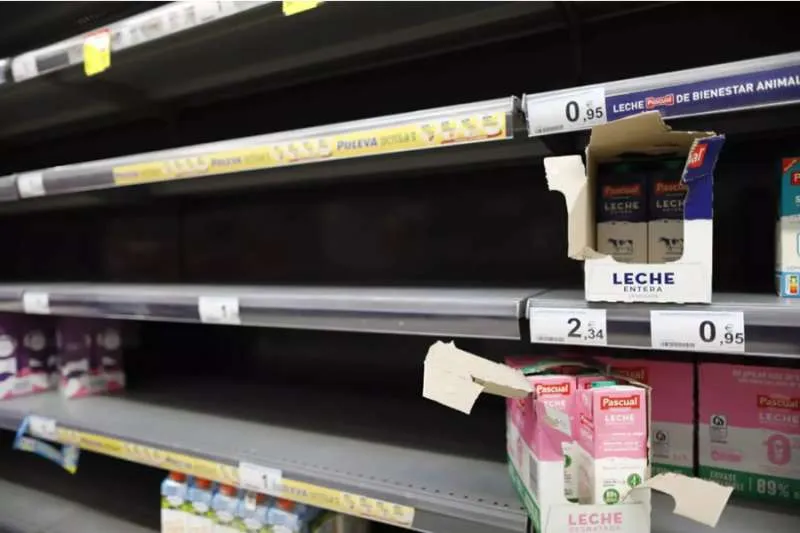 Panic buying in the Canary Islands increases food purchases by 25%
The transport strike in mainland Spain and the conflict in Ukraine have triggered panic buying in supermarkets and hypermarkets, according to data analyzed by the consulting firm NielsenIQ, whose figures show an increase of 25% in the Canary Islands.
Specifically, that week March 7th to March 13th, sales made by supermarkets and hypermarkets in Spain increased by 23% compared to last year, and the average increase of the previous weeks of only 6%.
They say that this large increase in purchases are being made due to the fear of shortages because of the transport strike and the conflict in Ukraine, as movements have not been limited to a certain commercial sector and both supermarkets (+22%) and hypermarkets (+28%) have registered increases that are unusually high.
Online shopping, which has been consolidated in the last two years as one more option for many households, rebounded strongly in the last week (+17%) reaching a sales figure of close to 50 million euros.
The analysis indicates that the situation is general throughout Spain, since all regions have increased by double figures, highlighting Castilla-La Mancha (+33%), Andalusia (+30%), Castilla y León (+26%), Murcia (+25%) and the Canary Islands (+25%), while Madrid and Catalonia both exceed 20%.
INCREASES BY TYPE OF PRODUCT:
Regarding the product categories that have increased their sales the most, there is a significant difference between pre-packed goods (+27%) and fresh produce (+13%).
Within the pre-packed goods, 'tinned' products with a long shelf life have been stocked up on most, as sales of dry food grew by 47%, oils increased by +289% over the previous year, preserves by 45% and milk by 35%, while in fresh products, sales of eggs grew by 27 % in the last week.
However, not only food has registered strong increases in sales, but also cleaning products have increased by 24%, and hygiene and beauty products by 20% in that week.
The general director of NielsenIQ for Southern Europe, Patricia Daimiel, explained that "the calls for calm that manufacturers and distributors have made in recent days, saying that supply is guaranteed, have not been enough to neutralize the fears of many buyers."
"We are convinced that, once again, the facts will show that this industry is capable of quickly recovering its pulse. And along with this, solidarity with Ukraine also helps us understand the unexpected evolution of the FMCG market in recent days.", she explained.