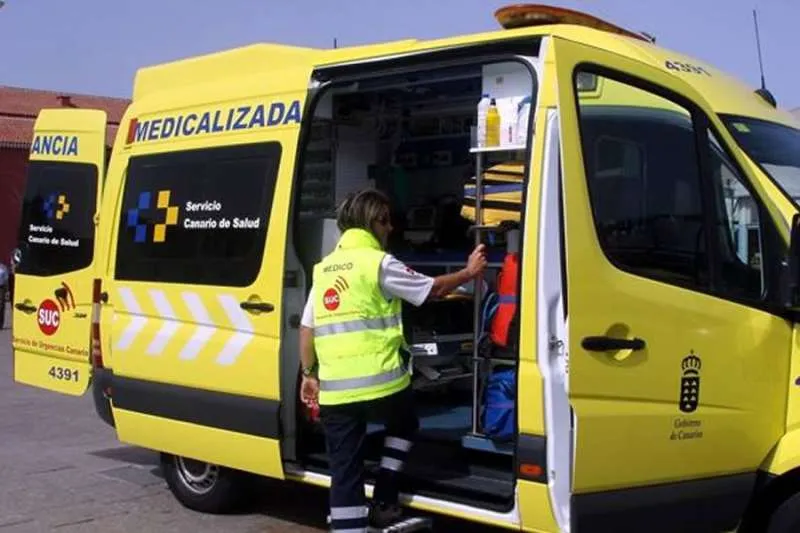 Four people have drowned over the weekend due to bad sea conditions
The Emergency Services Coordination Centre of the Canary Islands (CECOES) has informed that four people have drowned this weekend in unrelated incidents, and several others needed rescuing due to dangerous sea conditions, even though weather warnings were in place advising people not to swim or bathe in parts of all of the islands.
Yesterday morning (Sunday), a 50-year-old foreign woman died after drowning off Pájara, on the west coast of Fuerteventura, after lifeguards managed to pull her from the water in a state of cardiorespiratory arrest.
Whilst an ambulance was on its way, the duty doctor in the 112 call centre gave instructions by telephone to the people on the beach who were with the woman, to perform CPR until paramedics arrived.
Unfortunately, the SUC paramedic's attempts were in vain and they were only able to confirm the woman's death.
Meanwhile, in Bajamar in the north of Tenerife the search for a swimmer who went missing in the sea on Saturday was resumed with the GES helicopter, after they had already successfully rescued a 36-year-old man who they airlifted then took to the Tenerife North airport, where he was treated for cuts and hypothermia before being transferred to hospital in an ambulance.
However, on this occasion they weren't so lucky and at around 2pm yesterday afternoon found the lifeless body of the second man, also 36-years-old, in the sea not far from the Bajamar coast. This time, after retrieving him, he was proclaimed dead and taken for autopsy and official identification.
The third person to lose their life was a 56-year-old German man who was swimming in the Hermigua natural pools in La Gomera, with his 9-year-old granddaughter who is in a critical condition in hospital.
According to CECOES, the tragic incident took place just after midday when an alert reported that there were two people in distress at sea. Officers from the Guardia Civil managed to get the young girl out of the water so that she could be treated by paramedics, who were at the scene, and she was then rushed to hospital for further treatment.
(pic)
In the meantime the GES helicopter spotted the man in the sea and airlifted him to the San Sebastian helipad. When the crew got him on board they confirmed that he wasn't breathing due to the amount of water he had swallowed, and started CPR.
When they landed, paramedics took over, but again to no avail and could only confirm his death.
Lastly, late yesterday afternoon, another female victim was reported by CECOES, who was swept into the sea in the Pozo de las Calcosas area, on the island of El Hierro. No more details have been released as yet.
GOVERNMENT ADVICE DUE TO ADVERSE SEA CONDITIONS:
Due to the dangerous conditions and 'coastal phenomena', the Government have issued safety advice if you go near to the coast as follows:
- Do not stand at the end of piers or jetties, or risk, taking photos or videos near where the waves break.
- Avoid fishing on rocks in risky areas
- Do not circulate with vehicles on roads near the beach line, for example, Garachico.
- Do not bathe in secluded areas or beaches that you do not know enough about, because there may be local currents or swell.
- Avoid bathing or swimming on beaches with a red flag, in areas where there are strong waves and undertows, or that lack lifeguards and rescue services.
- Avoid doing sports and nautical practices in areas affected by the swell and do not camp on the beach when there is a sea storm alert
- If you notice certain unusual waves, do not stay near the sea, nor go near it even if it calms down suddenly.
- If you see other people in dangerous places, warn them of the danger.
- If you fall into the water, move away from where the waves break, cry for help and wait to be rescued.
- If you try to get out and are swept away by the waves, try to calm down; do not swim against the current and let yourself go. In general, coastal currents lose intensity in other sections and that is when you should swim.
- If you are on land and you see that someone has fallen into the water, throw a line with a float, or any other object that you can hold on to. Call 1-1-2 immediately