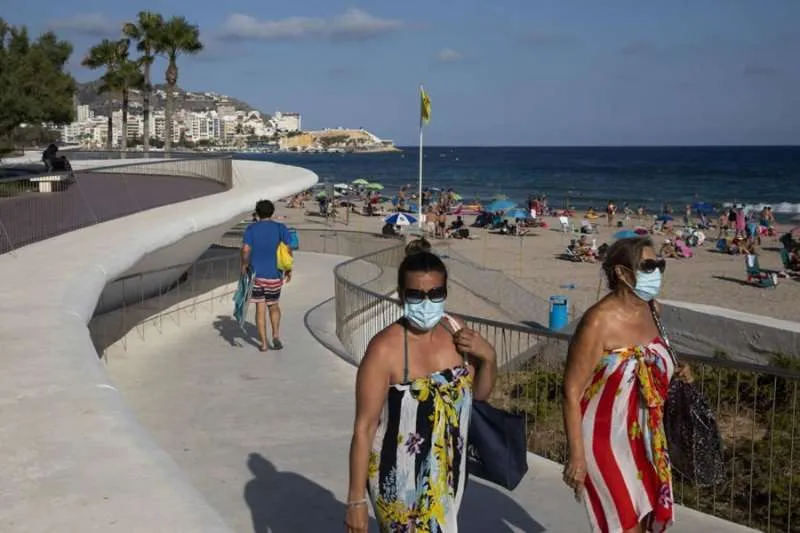 Covid update: Hospital occupancy drops almost 5% in the last 24 hours
The latest data from the Ministry of Health shows that 1,446 new cases of coronavirus have been reported in the Canary Islands today, with 105,038 active cases, of which 77 are admitted to ICU and 556 are hospitalized, which represents a drop of almost 5% since yesterday.
In the last 24 hours, nine people aged between 67 and 95 years old have died from Covid, five in Gran Canaria, three in Tenerife, and one in Lanzarote. All had previous pathologies and were already hospitalized.
Due to the downward trend in the data, several islands are expecting, or hoping for a drop in alert level this Thursday, especially as hospital pressure is starting to ease and admissions are slowing down. It is very possible that Tenerife and Lanzarote could see level changes this week.
Data for Tuesday 8th February 2022:
(updates are against yesterday's figures)
New cases: 1,446
Gran Canaria: 573
Tenerife: 519
La Palma: 134
Fuerteventura: 111
Lanzarote: 79
La Gomera: 20
El Hierro: 10
Current Incidence rate (IA7): 286.31
(Cases last 7 days: 6,230)
El Hierro: 888.13
La Palma: 600.30
Fuerteventura: 385.03
La Gomera: 336.75
Gran Canaria: 326.35
Tenerife: 214.95
Lanzarote: 197.67
Current Incidence rate (IA14): 745.74
(Cases last 14 days: 16,055)
El Hierro: 2,350.41
La Palma: 1,492.97
Fuerteventura: 927.91
Gran Canaria: 860.41
La Gomera: 664.27
Tenerife: 572.15
Lanzarote: 507.02
General:
Covid patients in hospital: 556 (-25)
Covid patients in ICU: 77 (-4)
Home isolation: 104,405
R number: 0.69 (needs to be below 1)
PCR test positivity rate: 19.00% (should be below 4.5%)

Vaccination: (No update today)
Total administered: 4,195,202
Fully vaccinated: 1,713,213 people (81.67%)
One dose: 1,824,764 people (86.99%)
Children aged 5-11: 67,635 (49.40%)
Booster doses: 787,147

Deaths last 24 hours: 9
Gran Canaria: 5 (527)
Tenerife: 3 (824)
Lanzarote: 1 (67)
Total deaths: 1,483

Medical Discharges in last 24 hours: 1,276
Tenerife: 573
Lanzarote: 420
Gran Canaria: 167
La Palma: 89
El Hierro: 24
Fuerteventura: 2
La Gomera: 1

Total Active cases per island:
Total: 105,038
Tenerife: 48,997 (-57)
Gran Canaria: 45,886 (+401)
Fuerteventura: 6,976 (+110)
Lanzarote: 2,467 (-342)
La Palma: 530 (+45)
La Gomera: 94 (+19)
El Hierro: 88 (-14)
Municipalities with most active cases in each island:
33,207 in Las Palmas (Gran Canaria)
21,916 in Santa Cruz (Tenerife)
9,167 in La Laguna (Tenerife)
3,687 in Telde (Gran Canaria)
3,439 in Puerto del Rosario (Fuerteventura)
2,175 in Arona (Tenerife)
2,112 in Adeje (Tenerife)
1,812 in Granadilla de Abona (Tenerife)
1,711 in Santa Lucia de Tirajana (Gran Canaria)
1,681 in Arrecife (Lanzarote)
1,680 in San Bartolomé de Tirajana (Gran Canaria)
1,361 in Puerto de La Cruz (Tenerife)
1,180 in La Oliva (Fuerteventura)
733 in Guia de Isora (Tenerife)
466 in Mogán (Gran Canaria)
454 in San Miguel de Abona (Tenerife)
143 in Santiago del Teide (Tenerife)
(Please note this is not all municipalities, it represents the most infected and tourist areas)