Covid update: Active cases drop by over 87,000 today in the Canary Islands
Today's data from the Ministry of Health, shows a major update in the number of active cases and medical discharges, after the validation of these cases in the ReVEca information system. This doesn't affect the levels or any risk changes in the islands as the cases have already been correctly accounted for, however, it does mean that they have effectively 'caught up' with validating people's recovery and adjusted the figures accordingly.
This adjustment means that today the islands have registered 87,938 medical discharges leaving 18,470 active cases. Of these 487 are in wards, 73 are in ICU, and 17,910 people are in home isolation.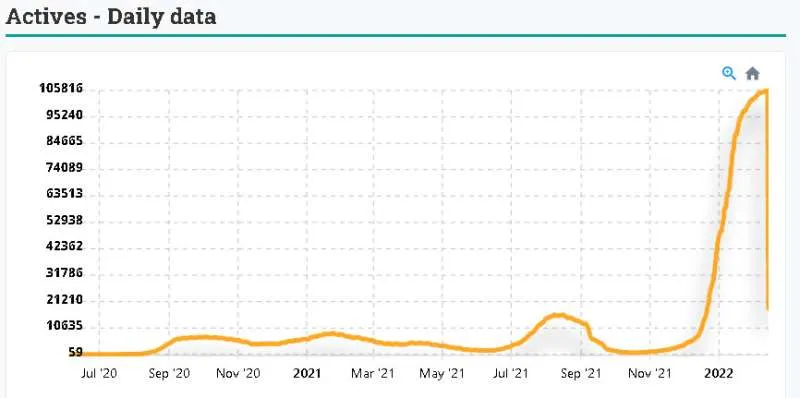 This adjustment gives the first sure sign that the sixth wave is coming to an end and that more restrictions will be lifted or alert levels lowered this week.
In the last 24 hours, six deaths have been reported, of which three were in Gran Canaria, two in Tenerife, and one in Lanzarote, the latter pending validation by Public Health. All the deceased had previous pathologies and were hospitalized, and were aged between 68 and 84 years old.
Data for Monday 14th February 2022:
(updates are against yesterday's figures)
New cases: 598
Tenerife: 263
Gran Canaria: 263
Lanzarote: 42
Fuerteventura: 14
La Palma: 10
La Gomera: 4
El Hierro: 2
Current Incidence rate (IA7): 240.35
(Cases last 7 days: 5,230)
El Hierro: 538.26
La Palma: 473.29
La Gomera: 378.26
Fuerteventura: 277.29
Gran Canaria: 266.85
Tenerife: 195.35
Lanzarote: 169.43
Current Incidence rate (IA14): 554.52
(Cases last 14 days: 12,014)
El Hierro: 1,525.07
La Palma: 1,141.89
Fuerteventura: 711.59
La Gomera: 668.88
Gran Canaria: 629.79
Tenerife: 427.31
Lanzarote: 378.66
General:
Covid patients in hospital: 487 (+4)
Covid patients in ICU: 73 (-)
Home isolation: 17,910
R number: 0.75 (needs to be below 1)
PCR test positivity rate: 15.97% (should be below 4.5%)

Vaccination:
Total administered: 4,230,541
Fully vaccinated: 1,723,037 people (82.14%)
One dose: 1,828,236 people (87.15%)
Children aged 5-11: 68,545 (50.07%)
Booster doses: 809,604

Deaths last 24 hours: 6
Gran Canaria: 3 (549)
Tenerife: 2 (844)
Lanzarote: 1 (68)
Total deaths: 1,527

Medical Discharges in last 24 hours: 87,938
Tenerife: 42,535
Gran Canaria: 38,632
Fuerteventura: 5,883
Lanzarote: 692
La Palma: 119
El Hierro: 47
La Gomera: 30

Total active cases per island:
Total: 18,470 (-87,346)
Gran Canaria: 9,022 (-38,372)
Tenerife: 6,996 (-42,274)
Fuerteventura: 1,368 (-5,869)
Lanzarote: 1,235 (-143)
La Palma: 374(-109)
La Gomera: 91 (-26)
El Hierro: 35 (-45)
Municipalities with most active cases in each island:
6,661 in Las Palmas (Gran Canaria)
3,449 in Santa Cruz (Tenerife)
1,442 in La Laguna (Tenerife)
734 in Puerto del Rosario (Fuerteventura)
549 in Telde (Gran Canaria)
390 in Santa Lucia de Tirajana (Gran Canaria)
384 in Arrecife (Lanzarote)
352 in Adeje (Tenerife)
352 in San Bartolomé de Tirajana (Gran Canaria)
287 in La Oliva (Fuerteventura)
285 in Arona (Tenerife)
206 in Granadilla de Abona (Tenerife)
168 in Puerto de La Cruz (Tenerife)
114 in Guia de Isora (Tenerife)
105 in Mogán (Gran Canaria)
37 in San Miguel de Abona (Tenerife)
15 in Santiago del Teide (Tenerife)
(Please note this is not all municipalities, it represents the most infected and tourist areas)