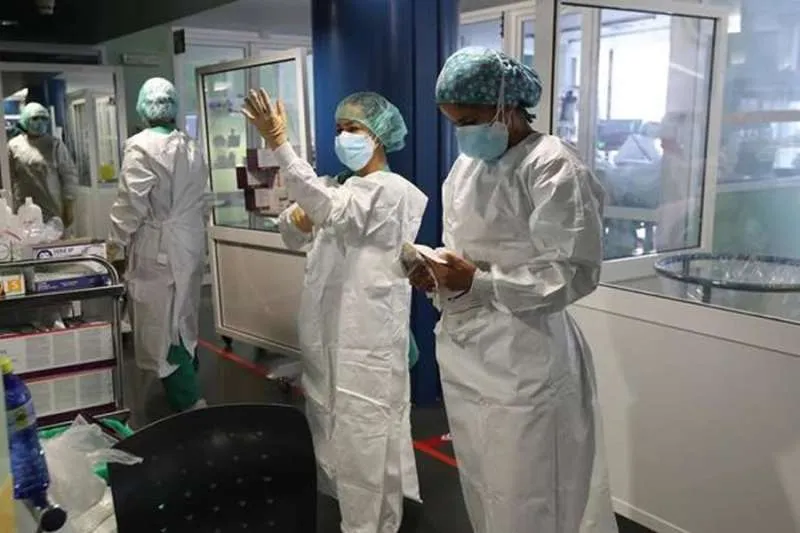 Covid update: Active cases drop by almost 5,000 over the weekend
According to data from the Ministry of Health, there have been 2,397 new cases, 8 deaths, and active cases have dropped by 4,894 to 14,307 people with the virus in the islands. This drop is down to consolidating the medical discharges of people from self-diagnosis antigen tests after their positives registered online were included in the new cases data from last week.
In the last 7 days, 9,999 people have tested positive for Covid in the archipelago, which has caused an increase in the incidence rates, which now stand at 459 over 7 days and 737 over 14 days, but hospital pressure has stayed about the same with 294 Covid patients in hospital wards and 43 in ICU.
Of the active cases, Gran Canaria continues to be the most infected island with 6,666 people still positive, and remains in Level 4 restrictions, which although they have been relaxed are the strictest in the islands, and Tenerife has 5,898 and dropped to Level 3 on Friday.
Fuerteventura have seen a 'blip' with a rebound in cases but now have 716 actives on the island, and Lanzarote continue to have the best data (and are the only island at Level 2) with 531 actives.
In the three smaller islands, La Palma still has a high incidence of the virus with 383 active cases among their low population, and La Gomera has 87 with just 26 active cases in El Hierro.
Data for Sunday 27th February 2022:
(updates are against yesterday's figures)
New cases: 767
Gran Canaria: 414
Tenerife: 256
La Palma: 39
Lanzarote: 24
Fuerteventura: 17
La Gomera: 11
El Hierro: 6
Current Incidence rate (IA7): 459.52
(Cases last 7 days: 9,999)
Gran Canaria: 542.01
Tenerife: 444.22
La Gomera: 396.72
La Palma: 393.01
Fuerteventura: 334.08
El Hierro: 269.13
Lanzarote: 252.23
Current Incidence rate (IA14): 737.61
(Cases last 14 days: 15,996)
Gran Canaria: 841.59
La Palma: 759.66
Fuerteventura: 754.18
Tenerife: 696.21
La Gomera: 636.59
El Hierro: 574.15
Lanzarote: 414.60
General:
Covid patients in hospital: 294 (+3)
Covid patients in ICU: 43 (+2)
Home isolation: 13,970
R number: 0.96 (needs to be below 1)
PCR test positivity rate: 18.68% (should be below 4.5%)

Vaccination: (No update today)
Total administered: 4,274,666
Fully vaccinated: 1,742,908 people (83.09%)
One dose: 1,831,745 people (87.32%)
Children aged 5-11: 69,390 (50.68%) first dose and 21,452 (11.2%) second dose.
Booster doses: 830,328

Deaths last 24 hours: 4
Gran Canaria: 3 (572)
La Gomera: 1 (3)
Total deaths: 1,577

Medical Discharges in last 24 hours: 892
Tenerife: 357
Gran Canaria: 354
Fuerteventura: 95
Lanzarote: 40
La Gomera: 22
La Palma: 21
El Hierro: 3

Total active cases per island:
Total: 14,307
Gran Canaria: 6,666 (+57)
Tenerife: 5,898 (-101)
Fuerteventura: 716 (-78)
Lanzarote: 531 (-16)
La Palma: 383 (+18)
La Gomera: 87 (-12)
El Hierro: 26 (+3)
Municipalities with most active cases in each island:
5,146 in Las Palmas (Gran Canaria)
2,690 in Santa Cruz (Tenerife)
961 in La Laguna (Tenerife)
528 in Puerto del Rosario (Fuerteventura)
401 in Arrecife (Lanzarote)
368 in Telde (Gran Canaria)
322 in Adeje (Tenerife)
276 in Arona (Tenerife)
275 in San Bartolomé de Tirajana (Gran Canaria)
258 in Granadilla de Abona (Tenerife)
210 in Santa Lucia de Tirajana (Gran Canaria)
167 in Puerto de La Cruz (Tenerife)
93 in Mogán (Gran Canaria)
90 in Guia de Isora (Tenerife)
42 in Santiago del Teide (Tenerife)
40 in San Miguel de Abona (Tenerife)
33 in La Oliva (Fuerteventura)
(Please note this is not all municipalities, it represents the most infected and tourist areas)