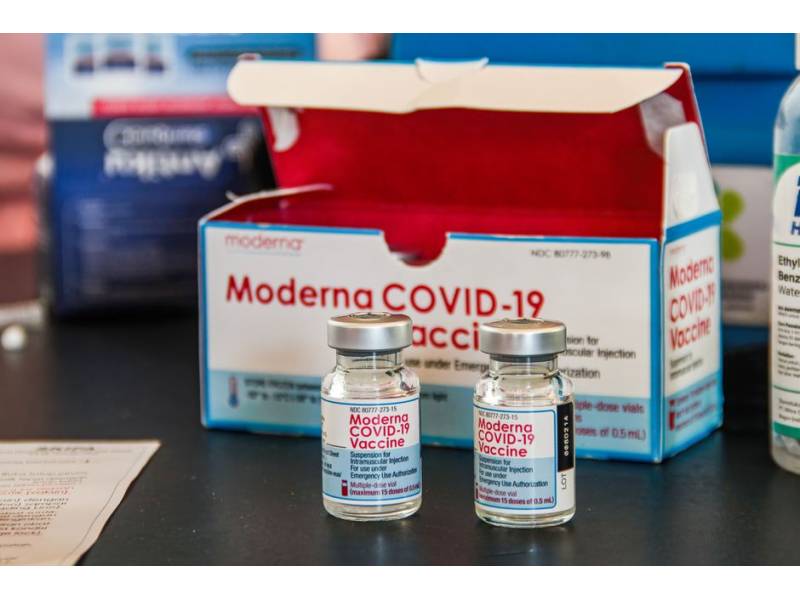 Moderna Covid booster produces strong antibody response against Omicron
Moderna have announced that their Covid-19 booster jab elicits a strong antibody response against the Omicron variant of coronavirus, appearing to increase antibody levels even further than a third dose of the Pfizer vaccine. The company said this morning (Monday), that its half-dose booster increased antibody levels by 37 times, compared with people who have had just two doses.
Stéphane Bancel, Moderna's chief executive, said Moderna would also continue to invest in developing a vaccine targeted at the Omicron variant, in case it became necessary in the future, putting it into clinical trials early in the new year.
"The dramatic increase in Covid-19 cases from the Omicron variant is concerning to all. However, these data showing that the currently authorised Moderna Covid-19 booster can boost neutralising antibody levels to 37 times higher than pre-boost levels, are reassuring," he said.
A full dose of Moderna's vaccine boosted antibody levels even further, by 83 times. The company also announced safety data for the full dose booster, saying side effects were at similar levels to the previous two doses but slightly more frequent than for the half dose.
BioNTech and Pfizer have previously announced that a third dose of their Covid vaccine boosts antibody levels by about 25 times, and that they are also preparing a vaccine targeted at Omicron, which they said will be available by March.
Moderna's half-dose booster contains more messengerRNA — the genetic code that allows the body to create the spike protein and generate an immune response — than Pfizer's full dose.
Working with scientists from the US National Institutes of Health, Moderna tested how antibodies from vaccine recipients taken 29 days after boosting, reacted to a pseudovirus, engineered to include the mutations seen in the Omicron variant.
The study's results back up a finding by the Ragon Institute in Boston last week, which showed a steeper drop-off in antibody levels for Pfizer's shot than for Moderna's, but when boosted, both vaccines did well at tackling Omicron.
The lab also found that mRNA vaccines were better at boosting antibody responses than the Johnson & Johnson shot, which uses an adenovirus platform similar to that used by AstraZeneca.