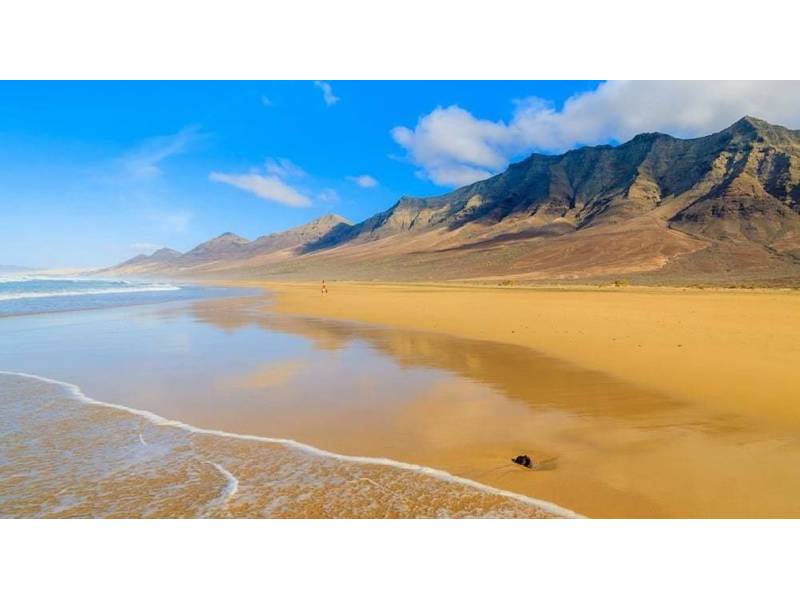 Canary Islands beach wins prize for being the second best in Europe
Cofete beach, in the south of Fuerteventura, has been recognized as the second best in Europe in the "Travelers Choice Awards 2021" which are presented each year by TripAdvisor, the largest travel platform in the world, as reported this Friday by the City Council of Pájara in an official press release.
Playa Cofete has risen to second place in this classification for its beauty, it's 12 kilometres of golden sand, and for its natural beauty being surrounded by wildlife, which is protected by the Jandía massif in the south of the island.
Cofete beach is reached by an unpaved road, which makes access difficult and means it doesn't get very crowded, a fact highly valued by tourists who visit it and voted for it.
The mayor of Pájara, Pedro Armas, has expressed his satisfaction with the recognition of Cofete on this important international platform as the second best beach in Europe, and has commented that he has always "considered it to be the eighth wonder of the world."
The Councillor for Tourism of the Pájara City Council, Marisol Placeres, has valued the award, "which only strengthens what we already knew, that in Pájara we have one of the best beaches in Europe, and therefore, in the world."
"The decision of TripAdvisor visitors gives us global exposure and is an incentive to continue working and protecting our beaches and coastal environment," she added.
Other articles that may interest you...
The beach that claimed first place ahead of Cofete, is Conigli Beach in Lampedusa (Sicily). The only other Spanish beach that appeared in this classification, is La Concha, in San Sebastián on the north coast of, which came in at fourth position
Three sandy beaches from Greece, two from Great Britain, and one from Italy, Portugal and France, respectively, complete the list of best beaches in Europe.
The awards are presented based on the opinions and comments of travellers in the last 12 months. As a novelty, in this edition, reservations made on TripAdvisor have also been taken into account, which highlights the activation of Internet users' trips.