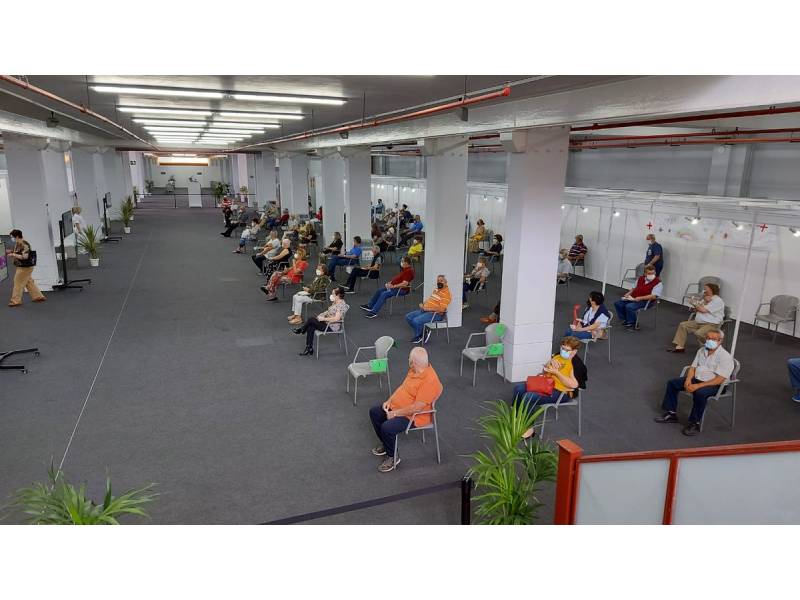 Covid update: The Canary Islands start Christmas with 3,122 new cases
The Ministry of Health has updated the epidemiological data for the last time before Christmas, reporting a new record 3,122 new cases in the last 24 hour, and have verified two more Covid deaths in Gran Canaria. Of the new cases Tenerife has 1,862 new cases, Gran Canaria has 833, Lanzarote 227, Fuerteventura 89, La Palma 54, La Gomera 30, and El Hierro 27.
Following 205 medical discharges, all this means that 24,000 people in the Canary Islands will be spending Christmas in home isolation.
Regarding the risk level in each island, this table shows you it for hospital beds and ICU occupancy among other things. It is important to remember a couple of points though, for example, ICU's are at high risk when occupancy by Covid patients reached 15%, because they still have their other 'usual' patients from illness and accidents etc. Also, there is no coincidence that ICU patients went down by 2 today, just as deaths increased by 2.
The SCS want to remind people, that they can still book an appointment, or if eligible without an appointment, go to the main vaccination points today, Christmas Day and Boxing Day for a Covid vaccine. Health staff are working all over Christmas to help increase vaccination and protection against the coronavirus.
Data for Friday 24th December 2021:
(updates are against yesterday's figures)
New cases: 3,122
Tenerife: 1,862
Gran Canaria: 833
Lanzarote: 227
Fuerteventura: 89
La Palma: 54
La Gomera: 30
El Hierro: 27
Current Incidence rate (IA7): 677.50
(Cases last 7 days: 14,743)
Tenerife: 1,018.30
El Hierro: 583.12
Lanzarote: 482.63
La Gomera: 479.75
Gran Canaria: 424.89
Fuerteventura: 407.58
La Palma: 286.37
Current Incidence rate (IA14): 989.87
(Cases last 14 days: 21,537)
Tenerife: 1,466.50
Fuerteventura: 765.04
El Hierro: 717.68
Lanzarote: 678.38
Gran Canaria: 632.71
La Gomera: 544.33
La Palma: 400.20
General:
Covid patients in hospital: 298 (-3)
Covid patients in ICU: 52 (-2)
Home isolation: 24,158
R number: 1.59 (needs to be below 1)
PCR test positivity rate: 18.15% (should be below 4.5%)

Vaccination: (NO UPDATE TODAY)
Total administered: 3,659,379
Fully vaccinated: 1,684,838 people (80.32%*)
One dose: 1,747,441 people (83.30%*)
Children aged 5-11: 23,126 (16.89%)
Booster doses: 373,156
*population target has been adjusted to include everyone over 5 years old.

Deaths last 24 hours: 2
Gran Canaria: 2 (385)
Total deaths: 1,106

Medical Discharges in last 24 hours: 205
Tenerife: 131
Gran Canaria: 60
La Palma: 11
Lanzarote: 2
El Hierro: 1
Fuerteventura: 0
La Gomera: 0

Total Active cases per island:
Total: 24,508
Tenerife: 14,718 (+1,731)
Gran Canaria: 6,746 (+771)
Fuerteventura: 1,551 (+89)
Lanzarote: 992 (+225)
La Palma: 307 (+43)
La Gomera: 120 (+43)
El Hierro: 474 (+26)
Municipalities with most active cases in each island:
6,481 in Santa Cruz (Tenerife)
5,476 in Las Palmas (Gran Canaria)
3,329 in La Laguna (Tenerife)
838 in Puerto del Rosario (Fuerteventura)
791 in Arrecife (Lanzarote)
567 in Arona (Tenerife)
481 in La Oliva (Fuerteventura)
464 in Adeje (Tenerife)
430 in Granadilla de Abona (Tenerife)
384 in Puerto de La Cruz (Tenerife)
334 in Telde (Gran Canaria)
232 in San Bartolomé de Tirajana (Gran Canaria)
217 in Santa Lucia de Tirajana (Gran Canaria)
177 in Guia de Isora (Tenerife)
72 in Santiago del Teide (Tenerife)
68 in San Miguel de Abona (Tenerife)
44 in Mogán (Gran Canaria)
(Please note this is not all municipalities, it represents the most infected and tourist areas)