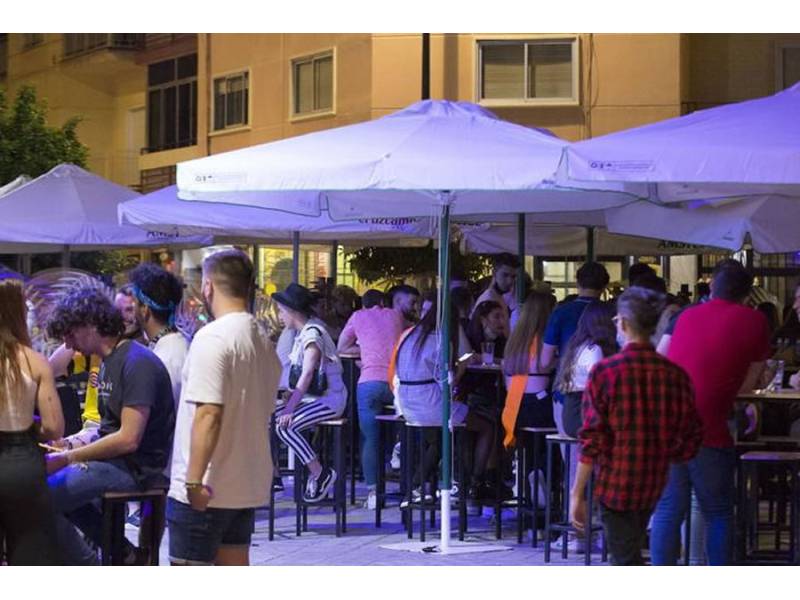 Covid update: 2,500 new cases, 6 more deaths and hospital admissions increase again
The Ministry of Health have reported another 2,584 new cases of coronavirus in the Canary Islands today, with the most cases in Gran Canaria. In the last 24 hours, the death of six people has been reported, four in Tenerife and two in Gran Canaria, between 59 and 83 years old, taking the death toll to 1,210 people since the pandemic began.
20-39-year-olds are the most infected and least vaccinated:
According to the latest data provided by the Ministry of Health, the 14-day incidence rate in the 20 to 29 age group is 4,084 cases, and in the 30 to 39 age group is 3,317 cases, making them the most infected age groups as well as being the least vaccinated.
The two main reasons being given for this, are the intensity of social contact in their age groups, and the fact that they are the least vaccinated. They go out, go to bars and discos, hang out on the street with their friends, at home with their relatives, have high mobility in their jobs, and adults from 20 to 39 years old are the ones who socialize the most when they are on holiday.
In fact, in 16 of the 17 regions of Spain, including the Canary Islands, young people between 20 and 29 years old make up the age group with the highest incidence (in La Rioja it is those between 40 and 49 years old) and in 15 regions, the incidence in that age group exceeds the national average (it is only lower in Andalusia and Murcia).
However, the Ministry of Health has also highlighted that this high rate is undoubtedly due to the fact that this age group is among the least vaccinated in the country.
In Spain, 90.3% of the population over 12 years of age has been fully vaccinated, a very remarkable fact in comparison with neighbouring European countries, but this percentage drops to 81% among young people aged 20 to 29 years old. Within the group of adults, they are the second least immunized after the group aged 30 to 39 years (79%), the second with the highest incidence of infections.
Data for Monday 10th January 2022:
(updates are against yesterday's figures)
New cases: 2,584
Gran Canaria: 1,203
Tenerife: 886
Lanzarote: 204
Fuerteventura: 174
La Palma: 82
La Gomera: 26
El Hierro: 9
Current Incidence rate (IA7): 1,256.51
(Cases last 7 days: 27,341)
La Palma: 1,622.37
Lanzarote: 1,483.84
Tenerife: 1,267.71
El Hierro: 1,255.94
Fuerteventura: 1,216.88
Gran Canaria: 1,178.93
La Gomera: 991.79
Current Incidence rate (IA14): 2,422.02
(Cases last 14 days: 52,505)
La Palma: 2,812.19
Lanzarote: 2,676.30
Tenerife: 2,671.54
El Hierro: 2,090.25
Gran Canaria: 2,165.35
Fuerteventura: 1,844.95
La Gomera: 1,748.32
General:
Covid patients in hospital: 485 (+5)
Covid patients in ICU: 68 (+3)
Home isolation: 65,725
R number: 1.10 (needs to be below 1)
PCR test positivity rate: 37.77% (should be below 4.5%)

Vaccination:
Total administered: 3,883,592
Fully vaccinated: 1,694,978 people (80.90%)
One dose: 1,791,276 people (85.39%)
Children aged 5-11: 50,800 (37.17%)
Booster doses: 536,737

Deaths last 24 hours: 6
Tenerife: 4 (684)
Gran Canaria: 2 (418)
Total deaths: 1,210

Medical Discharges in last 24 hours: 1,591
Tenerife: 643
Gran Canaria: 577
La Palma: 275
Lanzarote: 50
El Hierro: 23
La Gomera: 13
Fuerteventura: 10

Total Active cases per island:
Total: 66,278
Tenerife: 33,150 (+239)
Gran Canaria: 23,119 (+624)
Lanzarote: 4,540 (+154)
Fuerteventura: 3,594 (+164)
La Palma: 1,510 (+193)
La Gomera: 230 (+13)
El Hierro: 135 (-14)


Municipalities with most active cases in each island:
17,134 in Las Palmas (Gran Canaria)
14,481 in Santa Cruz (Tenerife)
6,397 in La Laguna (Tenerife)
2,931 in Arrecife (Lanzarote)
1,835 in Telde (Gran Canaria)
1,666 in Puerto del Rosario (Fuerteventura)
1,347 in Arona (Tenerife)
1,182 in Granadilla de Abona (Tenerife)
1,118 in Adeje (Tenerife)
1,041 in Puerto de La Cruz (Tenerife)
909 in La Oliva (Fuerteventura)
873 in San Bartolomé de Tirajana (Gran Canaria)
801 in Santa Lucia de Tirajana (Gran Canaria)
439 in Guia de Isora (Tenerife)
261 in Mogán (Gran Canaria)
225 in San Miguel de Abona (Tenerife)
113 in Santiago del Teide (Tenerife)
(Please note this is not all municipalities, it represents the most infected and tourist areas)