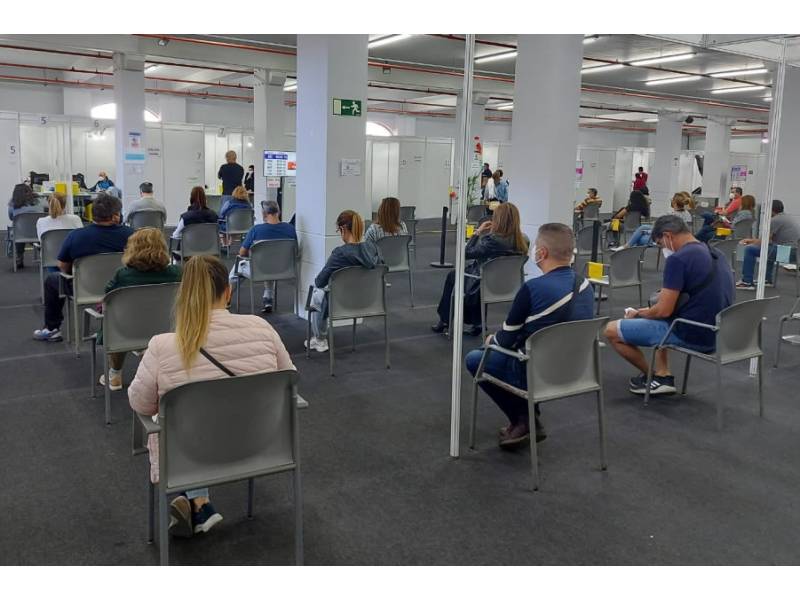 Covid update: 5,368 new cases and 11 deaths in the Canary Islands
Following the announcement of level changes for Tenerife, Lanzarote, and La Palma, the Ministry of Health has updated the epidemiological data for the last 24 hours which shows 5,368 new cases and 11 more Covid related deaths in the islands, seven of them in Tenerife and four in Gran Canaria.
The Minister of Health for Spain, Carolina Darias, has informed of new data today showing that "unvaccinated people aged between 60 and 79 years old, have a 20% more chance of dying as a result of Covid than people who are fully vaccinated," which is why "the vaccine makes the difference between those who have been vaccinated and those who have not".
Darias has insisted on the 'turning point' that being vaccinated means, because results from new studies show there is sixteen times more chance of entering hospital than unvaccinated people, and thirty times more chance of entering ICU than people who are vaccinated, in this age group.
This is why she has stressed today "that vaccination continues to be the most powerful weapon to fight this pandemic", hence why she has emphasized the importance of getting vaccinated.
Data for Saturday 8th January 2022:
(updates are against yesterday's figures)
New cases: 5,368
Tenerife: 2,531
Gran Canaria: 1,749
Lanzarote: 422
La Palma: 342
Fuerteventura: 267
La Gomera: 34
El Hierro: 23
Current Incidence rate (IA7): 1,173.10
(Cases last 7 days: 25,539)
La Palma: 1,534.90
Lanzarote: 1,527.48
Tenerife: 1,198.47
El Hierro: 1,112.41
Gran Canaria: 1,071.39
Fuerteventura: 1,058.20
La Gomera: 802.66
Current Incidence rate (IA14): 2,333.37
(Cases last 14 days: 50,608)
Tenerife: 2,628.89
Lanzarote: 2,590.30
La Palma: 2,580.94
El Hierro: 2,090.25
Gran Canaria: 2,047.64
La Gomera: 1,872.87
Fuerteventura: 1,675.41
General:
Covid patients in hospital: 456 (-3)
Covid patients in ICU: 65 (-)
Home isolation: 62,393
R number: 1.37 (needs to be below 1)
PCR test positivity rate: 41.84% (should be below 4.5%)

Vaccination: (No update today)
Total administered: 3,851,676
Fully vaccinated: 1,692,817 people (80.70%)
One dose: 1,784,605 people (85.08%)
Children aged 5-11: 47,042 (34.36%)
Booster doses: 514,049

Deaths last 24 hours: 11
Tenerife: 7 (674)
Gran Canaria: 4 (414)
Total deaths: 1,195

Medical Discharges in last 24 hours: 1,251
Tenerife: 753
Gran Canaria: 289
La Palma: 113
El Hierro: 49
La Gomera: 24
Fuerteventura: 18
Lanzarote: 5

Total Active cases per island:
Total: 62,914
Tenerife: 32,082 (+1,771)
Gran Canaria: 21,277 (+1,456)
Lanzarote: 4,207 (+417)
Fuerteventura: 3,290 (+249)
La Palma: 1,723 (+229)
La Gomera: 179 (+10)
El Hierro: 156 (-26)


Municipalities with most active cases in each island:
15,691 in Las Palmas (Gran Canaria)
13,776 in Santa Cruz (Tenerife)
6,337 in La Laguna (Tenerife)
2,717 in Arrecife (Lanzarote)
1,717 in Telde (Gran Canaria)
1,500 in Puerto del Rosario (Fuerteventura)
1,350 in Arona (Tenerife)
1,136 in Granadilla de Abona (Tenerife)
1,058 in Adeje (Tenerife)
1,003 in Puerto de La Cruz (Tenerife)
862 in La Oliva (Fuerteventura)
762 in San Bartolomé de Tirajana (Gran Canaria)
747 in Santa Lucia de Tirajana (Gran Canaria)
418 in Guia de Isora (Tenerife)
259 in Mogán (Gran Canaria)
224 in San Miguel de Abona (Tenerife)
113 in Santiago del Teide (Tenerife)
(Please note this is not all municipalities, it represents the most infected and tourist areas)