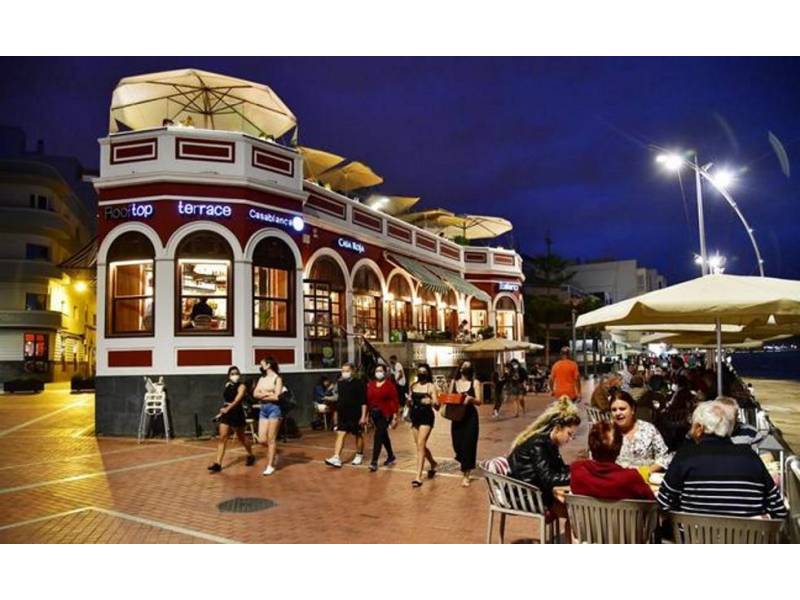 Covid update: Infections rise by almost 5,000 with 11 deaths today
The expected rebound in cases has taken a sharp upturn today with 4,726 new cases of coronavirus and 11 Covid related deaths in the last 24 hours in the Canary Islands. 8 people have lost their lives in Tenerife, 2 have died in Gran Canaria, and 1 person has lost their battle with Covid in Fuerteventura, as the total number of fatalities rises to 1,163 since the pandemic began.
Of the new cases today, there are 2,296 in Tenerife, 1,601 in Gran Canaria, 429 in Lanzarote, 199 in La Palma, 181 in Fuerteventura, and 10 in both La Gomera and El Hierro. Even with 2,358 medical discharges today, there are now over 51,000 active cases in the Canary Islands.
The Ministry of Health reminds that vaccination continues to be the best protection against getting seriously ill or dying from Covid-19, and all mass vaccination points are open all week for anyone with an appointment for their first, second, or third dose of a vaccine.
If you want to book an appointment and don't speak Spanish, the best way is via the miCita Previa app which you can download from Google Play or the Apple stores, put in your health card details, and choose a date and location.
The other option, if you are in Santa Cruz in Tenerife or Las Palmas in Gran Canaria, you can visit the Vacuna Buses which are in circulation again.
Data for Tuesday 4th January 2022:
(updates are against yesterday's figures)
New cases: 4,726
Tenerife: 2,296
Gran Canaria: 1,601
Lanzarote: 429
La Palma: 199
Fuerteventura: 181
La Gomera: 10
El Hierro: 10
Current Incidence rate (IA7): 1,165.88
(Cases last 7 days: 25,370)
Tenerife: 1,348.48
Lanzarote: 1,315.69
La Palma: 1,306.05
Gran Canaria: 1,014.82
El Hierro: 1,013.73
Fuerteventura: 648.11
La Gomera: 608.91
Current Incidence rate (IA14): 2,037.36
(Cases last 14 days: 44,203)
Tenerife: 2,528.74
Lanzarote: 2,006.26
El Hierro: 1,767.29
La Palma: 1,760.17
Gran Canaria: 1,674.65
La Gomera: 1,665.28
Fuerteventura: 1,139.21
Other articles that may interest you...
General:
Covid patients in hospital: 432 (+12)
Covid patients in ICU: 62 (-2)
Home isolation: 51,002
R number: 1.37 (needs to be below 1)
PCR test positivity rate: 31.20% (should be below 4.5%)

Vaccination: (No update today)
Total administered: 3,795,416
Fully vaccinated: 1,689,754 people (80.55%)
One dose: 1,774,796 people (84.61%)
Children aged 5-11: 41,963 (30.65%)
Booster doses: 471,738

Deaths last 24 hours: 11
Tenerife: 8 (654)
Gran Canaria: 2 (402)
Fuerteventura: 1 (24)
Total deaths: 1,163

Medical Discharges in last 24 hours: 2,358
Tenerife: 1,519
Gran Canaria: 648
Lanzarote: 93
La Palma: 37
La Gomera: 34
Fuerteventura: 20
El Hierro: 7

Total Active cases per island:
Total: 51,496
Tenerife: 27,910 (+-769)
Gran Canaria: 16,757 (+951)
Fuerteventura: 2,538 (+160)
Lanzarote: 2,726 (+336)
La Palma: 1,283 (+162)
La Gomera: 150 (-24)
El Hierro: 132 (+3)


Municipalities with most active cases in each island:
12,688 in Las Palmas (Gran Canaria)
12,214 in Santa Cruz (Tenerife)
5,706 in La Laguna (Tenerife)
1,809 in Arrecife (Lanzarote)
1,208 in Puerto del Rosario (Fuerteventura)
1,197 in Telde (Gran Canaria)
1,093 in Arona (Tenerife)
884 in Puerto de La Cruz (Tenerife)
830 in Adeje (Tenerife)
810 in Granadilla de Abona (Tenerife)
766 in La Oliva (Fuerteventura)
583 in San Bartolomé de Tirajana (Gran Canaria)
558 in Santa Lucia de Tirajana (Gran Canaria)
362 in Guia de Isora (Tenerife)
174 in Mogán (Gran Canaria)
167 in San Miguel de Abona (Tenerife)
89 in Santiago del Teide (Tenerife)
(Please note this is not all municipalities, it represents the most infected and tourist areas)