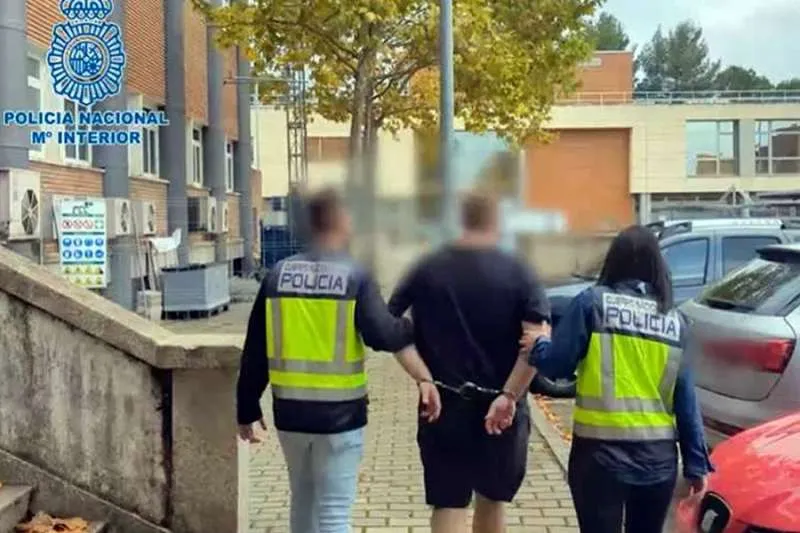 VIDEO: Germany's most wanted rapist and murderer is captured in Spain
The National Police have released footage of the moment Germany's most wanted criminal was detained approaching a toll booth on the outskirts of Madrid on Tuesday, after being on the run from the authorities and escaping to Spain.
Germany has been in shock after Jan T, aged 30, raped and killed a 21-year-old nurse after attacking her outside her home in Warendorf in the early hours of November 9th.
According to the police reports, the murderer was known to the victim and her family since he had worked in the same clinic as Johanna, also as a nurse. But, after confronting her at 5:30am last Wednesday, he forced her back into her home by threatening her with a knife.
After sexually abusing the nurse, he suffocated her and stole her mobile phone and wallet (which he later threw into a nearby lake) and withdrew 1,000 euros from ATMs in the area using her credit card.
A few days later, the accused contacted his parents and a friend of the victim, sending them videos via his phone where he admitted to the murder and threatened to commit suicide. However, at no point did the police believe that he would take his own life.
The German authorities alerted Spain on Monday (November 14th), through the Schengen police cooperation systems (SIRENE), saying that they believed that Jan T. had fled to Spain in an Audi A3 with German plates.
Just a few hours later the Fugitive Group of the National Police located the vehicle on the A-3 highway heading to Madrid. Immediately, they dispatched a team to intercept the wanted murderer, who was captured at 1:05pm at the first toll of the R-3, in the vicinity of Arganda del Rey.
Jan T has now been deported back to Germany where he will face trial for the sexual assault and murder of Johanna.