UK's cost-of-living crisis impacts winter holiday plans for half of Brits
In the face of a mounting cost-of-living crisis, 47% of Brits are being forced to reassess and, in many cases, cancel their winter holiday plans. According to an exclusive poll conducted by Redfield & Wilton Strategies for MailOnline, a staggering 44% of respondents have decided to forego holiday travel in the next three months, and nearly half of them attribute this decision to the financial pressures they are experiencing.
The research results reveal that even those who are still committed to their holiday plans have had to make significant adjustments due to the challenging economic climate. A substantial 59% of these individuals reported altering their arrangements to accommodate the economic realities.
This bleak scenario underscores the ongoing hardship experienced by everyday Britons as inflation soars and taxes continue to rise. A series of global crises, including the Covid pandemic, the ongoing Ukraine conflict, and the Israel crisis, have all contributed to the distress, placing added strain on the government's efforts to stabilize public finances.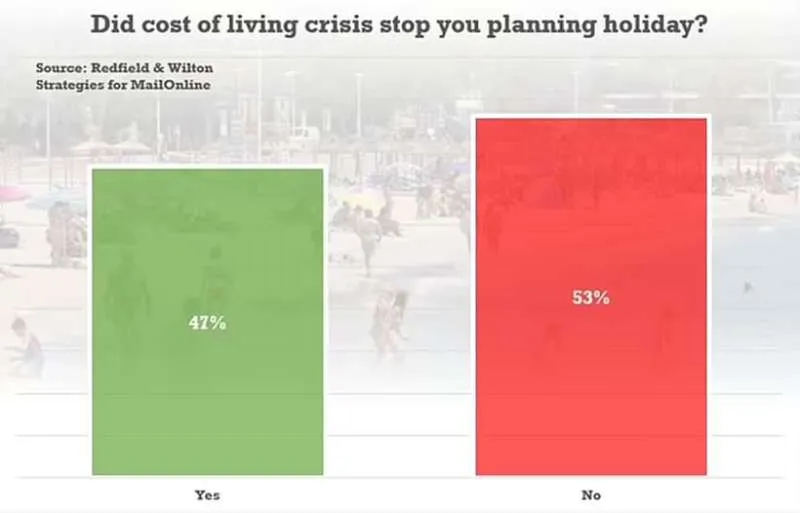 The poll, conducted on October 19th, inquired about holiday plans for the remainder of the year. It found that 25% of respondents were planning to travel abroad, while 23% were considering breaks within the UK. A fortunate 9% were contemplating both options. Regrettably, 44% confirmed that they had no prospects of a holiday this winter.
Of those who reluctantly abandoned their travel plans, 47% stated that they would have otherwise gone on holiday were it not for the cost-of-living crisis. Even among those who are determined to proceed with their travel plans, a significant 59% admitted that the economic squeeze had necessitated modifications to their holiday arrangements.
The government's Office for Budget Responsibility (OBR) has issued warnings that the nation is currently grappling with one of the most significant declines in living standards in decades. This alarming situation is primarily attributed to rising prices that erode incomes. Recent data indicates that regular wage increases have only recently surpassed inflation levels, marking the first time this has occurred in nearly two years.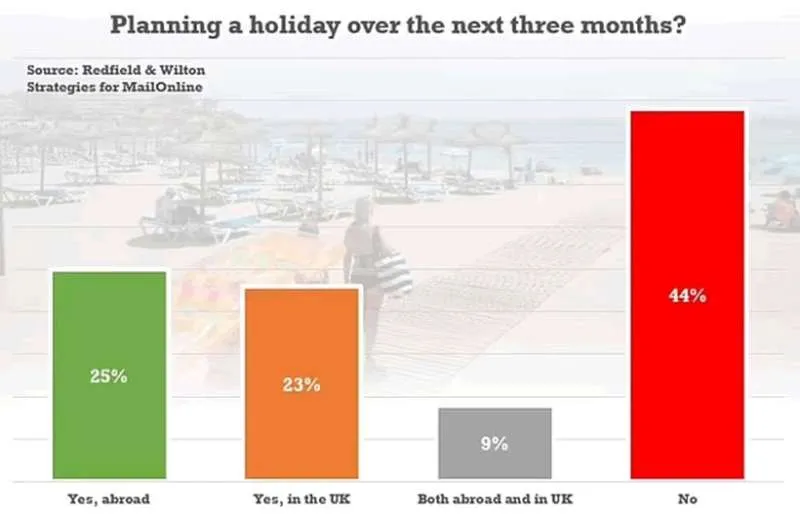 44% are not planning on going away over the next three months. Numbers do not add to 100% due to rounding
Calls from members of the Conservative Party have been mounting for Rishi Sunak to reduce taxes in order to alleviate the financial burden on citizens. These calls have grown more insistent following the party's recent double by-election defeat last week. Nevertheless, Sunak, who was travelling in the Middle East when the election results were announced, has vowed to prioritize the reduction of inflation and the management of the UK's post-Covid debt burden.
Chancellor Jeremy Hunt, in the wake of public sector borrowing figures that were lower than expected in September and £20 billion below OBR's earlier projections, has also rejected calls for significant cuts in the upcoming Autumn Statement. However, there are murmurs about the possibility of raising the threshold for paying the 40% higher rate of income tax in the upcoming Spring Budget.
This poll, conducted by Redfield & Wilton Strategies, involved 1,500 eligible voters on October 19th and the results have been weighted to accurately represent the broader population.
Other articles that may interest you...