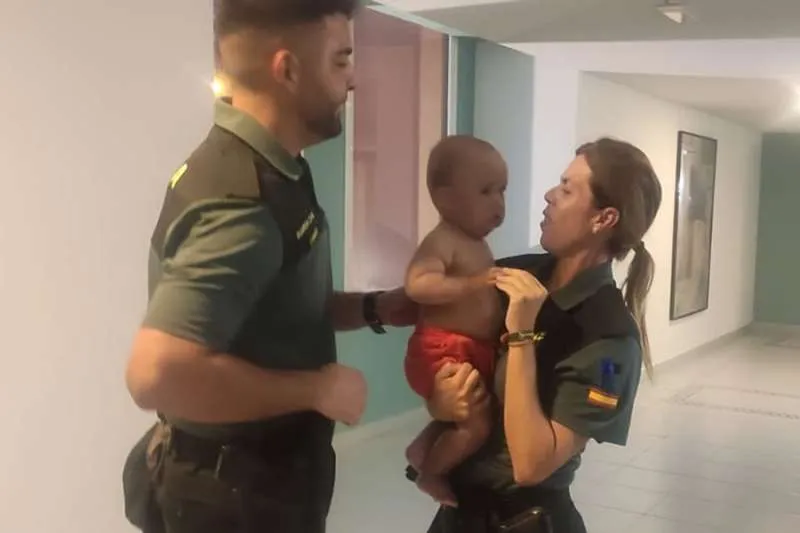 Two Guardia Civil officers save the life of 10-month-old British baby
Two Guardia Civil officers are being hailed as heroes after they saved the life of a 10-month-old British baby called Elliott Moon in Fuerteventura, who had stopped breathing after choking on some medicine that his mother had given him, while on holiday on the island.
The incident happened yesterday afternoon (Saturday) in the town of Costa Calma in Pajara when the Guardia Civil were alerted by a hotel security guard saying that an infant was suffocating.
The Agents rushed to the hotel and found a woman in reception who was visibly very worried about a baby in her arms, while she blurted out that he was not breathing.
Given the situation, the officers took a quick look at him and observed that he had turned a bluish tint, his body had stiffened, his stomach was swollen, and he was trying to breathe without being able to do so.
For all these reasons, they immediately initiated the Heimlich manoeuvre and then turned him around whilst applying pressure on the area of ​​the scapula, which made the young child expel abundant viscous liquid through his nose and mouth, and he started breathing again.
After a few minutes, his skin tone returned to its normal colour, the rigidity and swelling in his stomach disappeared, and after calming down, his breathing returned to normal.
At this point, an ambulance arrived and paramedics took Elliott to assess him, praising the actions of the two officers who had undoubtedly saved his life, before taking him to hospital with his mother for routine observation.