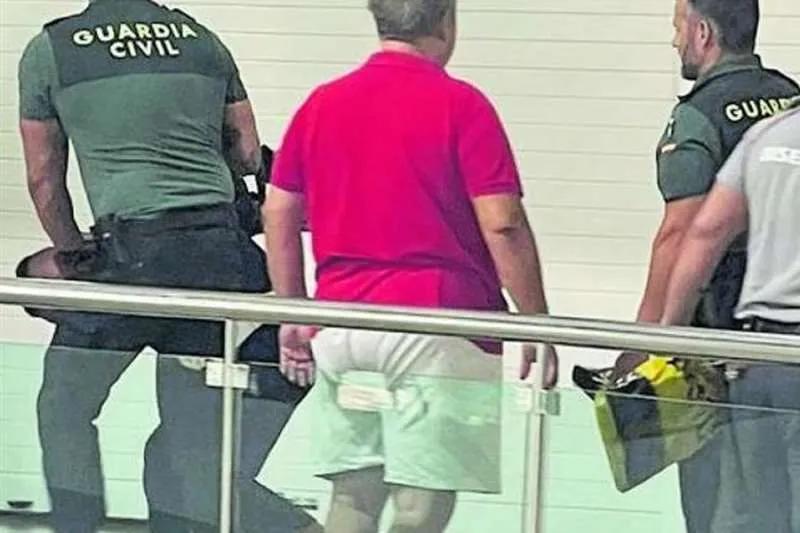 The owner of a jewellery store is injured in armed robbery in Tenerife
The owner of a chain of jewellery stores in Tenerife was injured by an armed robber with a knife yesterday morning, during an attempted robbery at one of his stores in the Punta Larga shopping centre, in the municipality of Candelaria in Tenerife.
The incident occurred at the Katy Kilate jewellery shop in the commercial centre when a man entered the store and threatened one of the staff by putting a knife to her neck and demanding money.
As the female assistant was getting the money from the safe, the owner of the store, a security guard, and a customer in the commercial centre managed to overpower the man and get the knife from him before he was arrested by the Guardia Civil.
The owners of the jewellery stores, who are husband and wife, explained after the attack that their daughter first noticed the situation on the security cameras, where she works as a supervisor in the company's security centre, because a man was in the store acting strangely until other customers left the premises.
Because he was acting strangely, she urgently rang the Katy Kilate's store which is located on the ground floor of the commercial centre, where by chance, her father was in the main office at the same shopping centre, so he ran downstairs and approached the premises where the suspect was said to be.
When he got to there, there was no one on the shop floor but he found the man and the assistant in a small office where she was getting the money out of the safe.
The man had his back to the door so the owner asked if everything was ok, but the employee didn't reply. At that moment, the robber turned quickly and tried to pull the owner into the office with his free hand, and tried to stab him with the knife.
This led to a struggle between the two men and the business owner managed to get the armed man out of the shop whilst trying to avoid the knife. About 30 seconds later, a security guard from the shopping centre arrived at the scene, and they were able to wrestle the thief to the ground, whilst a passer-by managed to get the knife out of his hand by hitting it with his motorbike helmet.
The security guard put handcuffs on the man and kept him on the floor until the Guardia Civil came and arrested him, and the store has provided CCTV footage of the incident which shows the whole incident for which he will be prosecuted.
The owner of the jewellery store suffered a cut to his neck and another to his forearm so was treated at the scene by ambulance personnel before being taken to a local medical centre.