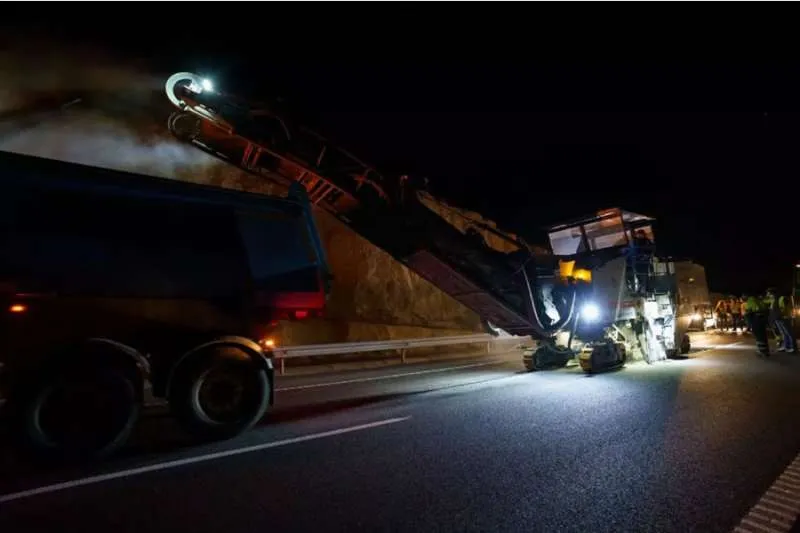 Resurfacing of the TF-1 continues in the south of Tenerife from tonight
The Department of Transport for ​​the Tenerife Cabildo have confirmed that they are continuing with the resurfacing of the TF-1 motorway in the south of the island this week, specifically in Adeje between Torviscas and Los Olivos. Some of the junctions will be closed at night while the work is being carried out, with diversions in place accordingly.
They have clarified that the work will take place overnight from 10pm until 6am starting tonight (Sunday) until Friday morning, March 11th, and will affect junctions 76 (Costa Adeje/Torviscas/Playa Fañabé), 78 (Costa Adeje/La Caleta/ Fañabé), 79A (Adeje), and 79B (Las Nieves/Los Olivos).
Tonight and tomorrow night (Monday), resurfacing will be carried out at junction 76, so the slip road to the TF-1 will be closed as will the adjacent lane towards Adeje, and the lanes leading up to the Adeje roundabout.
This means, drivers travelling south who wish to access Costa Adeje, Torviscas or Playa Fañabé, will have to continue to Junction 78 to make a U-turn and then rejoin the motorway heading towards Santa Cruz, to get to their destination. Likewise, any vehicles that wish to join the TF-1 from the X-Sur Shopping Centre, must also do so via junction 78.
Starting at 10pm on Tuesday night, the works will move to junction 78 with a different diversion in place. In this case, those heading south who wish to access Costa Adeje, Torviscas or Playa Fañabe, will have to continue driving to junction 79A to change direction and come back one junction to their destination.
In addition, those from these areas, including Miraverde, who want to join the road, can do so at junction 76. This exit can also be used by vehicles travelling north wanting to enter these population centres.
During Wednesday and Thursday nights, junctions 79A and 79B will be resurfaced, so exit 81 (Los Menores/Armeñime/Playa Paraíso) will be used to access the areas of Adeje, Las Nieves and Los Olivos. Drivers who wish to join the motorway from these towns may do so via this same junction.
These works are part of the TF-1 rehabilitation plan for the south that started last April with an execution period of approximately fourteen months. In total, the works, which are being carried out by Sacyr, will cover nearly 40 kilometres of the TF-1 between Adeje and Arico.
Other articles that may interest you...