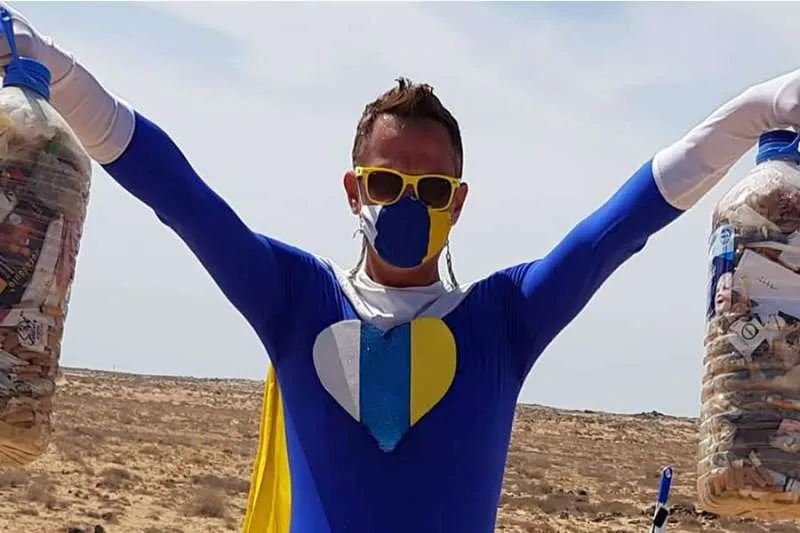 Meet 'Captain Canarias' who clears cigarette butts from beaches
Chilling on the beach, enjoying the sun, sea and sand of the Islands is one of the favourite pastimes during the summer. Sadly, nearly all beaches these days are subject to discarded rubbish and cigarette butts. Fortunately, one man is on a crusade to clear the beaches and educate people about recycling, his name... Captain Canarias!
Ollie is from Ingenio in Gran Canaria who works as a monitor in a Children's Park in the afternoons, but in the mornings he dedicates himself to collecting cigarette butts from the beach dressed as a superhero.
He began his fight against litter in 2019 in Puerto del Rosario in Fuerteventura, inspired by a friend who is a teacher that uploads videos to YouTube with healthy recipes aimed at children dressed as a superhero.
After being invited to appear in one of the videos, Ollie got the bug to create his own superhero, and since he has always been concerned about the destruction of the landscape and the protection of nature, he decided that his would be environmentally conscious.
In addition, so that tourists on the beaches of Fuerteventura understand his message, he wears the Canary Islands flag and his coat of arms collecting cigarette butts in empty 5 and 8-litre water bottles.
Over the last two years he has been in Corralejo for work reasons, where every morning he walks the beaches in search of cigarette butts, Ollie has also taken his alter ego, ' Captain Canarias', to the shores of Isla de Lobos and Lanzarote: "For now I have only visited those islands thanks to a sponsorship by a boat company. I would like to cover more places but for now it is difficult, since what I do is not funded and I only accept the occasional tip," he says.
Ollie shares his adventures on social media and has become a local celebrity with residents and tourists supporting his cause and wanting selfies with him, but for Ollie getting a positive message across about littering and recycling is more important.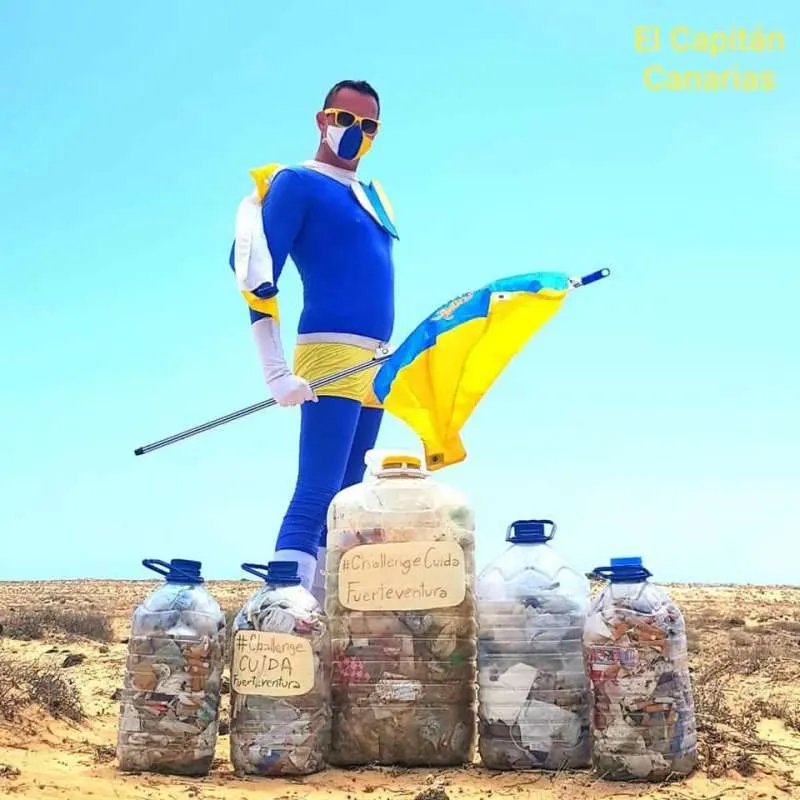 In one of his challenges, called the #ChallengeCuidaFuerteventura, he filled a 25-litre bottle, an eight-litre bottle and three five-litre bottles.
Although Ollie's main task is to pick up cigarette butts that some unscrupulous people leave in the sand, there are those who do not understand the role that his character, 'Captain Canarias', plays: "Some people have yelled at me, laughed at me, called me crazy, and even questioned why I do what I do", he says.
In fact, at first, tourists didn't understand either thinking that his superhero colours were those of Sweden or the Ukraine without realising they were the colours of the Canary Islands.
Despite all this, ' Captain Canarias' continues to fight the evil of litter and fulfil his duty by ridding the Islands of cigarette butts: "I refuse to give up, as little by little I am reinventing the character and trying to make any child, from any country, in any language, understand through my suit the importance of not destroying nature and recycling."
Ollie, we think you are a hero, not just a superhero.
Other articles that may interest you...